Way to go, Jaguar Soccer!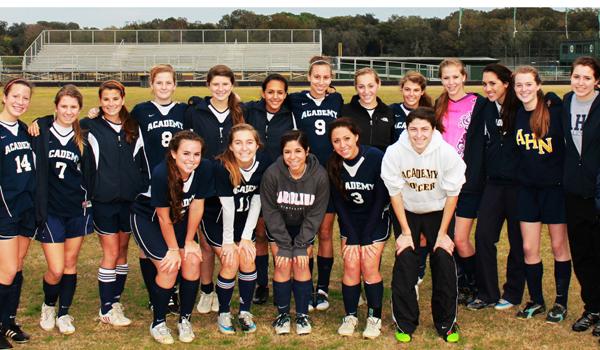 The Academy soccer team finished their season better than ever with only ten losses, six wins, and two ties, with the highlight of the season in their home game against Berkley Preparatory School on January 4. Unlike the previous years against this ongoing highly competitve rival, the Jaguars lost by only three goals.
The Berkley Prep team, led by nationally ranked Taylor Richardson, who had already signed with Vanderbilt University on a soccer scholarship, struggled to win this year against Academy's much-improved team.
Academy center midfielder Alana Adams played with excitement and enthusiasm throughout the Berkeley game because, as a freshman, she knew what this game meant to the upper class women. The game ended with a score of 3-0 with Berkley winning, but this score inspired the Jaguar team because they had proven they could play tough in the face of strong competition.
The season had begun on a rough start with goalie Mary Paterson's injury in an early game, but junior Leigh Anne Russell stepped in to play the position and led the team throughout the season until Mary healed. Team captains Samantha Mikulaschek, Madison Earhart, and Amanda Valdes helped the girls develop teamwork and a winning spirit. The season pleased Coach Mark Warhola so much that he said he "can barely wait to see what happens next year."
Senior Night brought tears and happiness to all girls on the team. Freshman Alana Adams had fans on their feet with her humorous but warm praise for one of the captains on the team, Madison Earhart.  Earhart later said she "is so glad she could help to create this kind of bond within the team.  Alana became a sister to me. Her speech at Spirit Night brought me to tears. Although I'm happy to move on to college soccer, I'm sad to leave my team."
As is tradition, the underclass women showered the seniors with gifts. Senior Alex Mollanazar said that her favorite gift of the night was the monogrammed laundry bag. "It's perfect to take to college and will always remind me of my team. The picture frame of the team and the seniors will add amazing memories to my college dorm!"
All five seniors agreed they were "heartbroken" to end their last year of high school soccer. Senior Sarah Shepard said, "This season has been the best season out of my four years playing Academy soccer. They girls on the team always showed their support and played one hundred percent with their hearts. Not only will I miss paying soccer, but I'll also miss my teammates who have made my soccer experience the best it could be."