Nike releases ground breaking workout motivator
Did you ever wish you had a calorie counter, watch, and pedometer all in one device? Your prayers may have been answered with Nike's new FuelBand. This futuristic band serves as a useful tool as well as a stylish accessory perfect for any occasion! Although it has not gained much popularity yet, it is only a matter of time before it becomes a global sensation.
The band's goal is to motivate you to get moving. It tracks your activity and computes it to show how much fuel you have burned. One of the most attractive features of the band is how it pairs with iOS app and Nike+ Web site to expand on the calculated facts.
This watch is revolutionary. Using this device is as simple as can be all you have to click is one button. That button will change the LED lights from displaying the time, calories burned, Nike Fuel Score, and steps taken. It will also show how much Nike Fuel you have by displaying a line of LED lights from red to green. When the line is filled with green, it means your Nike Fuel goal of the day is complete. It comes in different colors (black, white, and grey) and sizes
To find out more, you can unclip the metal clasp and find a USB cord which you will plug into a computer. Then the iOS app will connect with the Nike+ website to sync your data. If you are tech savvy, I recommend connecting your information to your iOS device through bluetooth. This option is easier than you may think. All you have to do is hold down the button on the band and your information will automatically sync to the website. Not only does the website show you a vibrant color display of your information and fuel points, it also provides the opportunity to share it with your friends on Facebook. This way, the Nike FuelBand user can motivate and be motivated by their friends. Currently iPhones are the only compatible phones, but sources have said that Nike is working to get the Android to be compatible.
You can wear this band anywhere from the gym to a nice dinner. When the LED lights are off, it appears as just a matte black band.The battery life is impressive, lasting for usually four days at a time. This is also water resistant. While it wont survive in a pool, it is perfectly acceptable to wear in the shower.
Many other brands have come up with similar bracelets. The FitBit Flex has a bracelet with the same features of the Nike Fuelband, but also tracks your sleep and wakes you up from your sleep. Jawbone's UP band has a heart monitoring system attached so it can more accurately calculate your calories burned. BodyMedia's Link comes in a fashionable style and still features the same functions as the other bands. The NikeFuel band has stood out and caught the eye of stars worldwide. Kanye West and Serena Williams have been spotted wearing the Nike Fuelband, both accompanying it with a sporty outfit and Cartier bracelets. Vogue has an article explaining how you can dress it up to make it chic. Nike has come up with a way to be active while keeping a great fashion sense.
Considering the sleek look and the exceptional motivational features, the Nike Fuelband has something to offer for everyone. To purchase or learn more about this up and coming product, you can visit Nike's Website
Leave a Comment
About the Contributor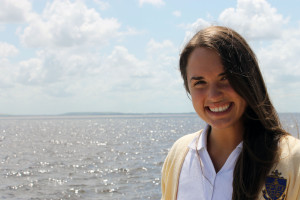 Hannah Hancock, Senior Staff Writer
Hannah Hancock has attended the Academy of the Holy Names for four years. She enjoys dancing, wakeboarding, cheerleading, tanning, and shopping. Hannah...