Academy's Rowing Club: Want to know about our crew?
Teenagers across the country play sports like baseball, basketball, soccer, volleyball, but not many are able handle the persistence required on the water. Crew has been taking over high schools all across the country, teaching athletes what teamwork really means.
To row, the rower's moments must be in sync, they must balance a fast boat, and they have to be strong. Athletes can either sweep or scull (sculling), and both are divided into two groups: lightweight and open weight. Scullers row with two oars (one in each hand), and sweepers only with one. The scullers row in singles, doubles, and quads while the sweepers have doubles and eights.
The AHN Rowing Club began their season with a strong start. Their first regatta was the Halloween Regatta at the Tampa Bypass Canal. The AHNRC raced against other clubs: Sarasota Crew, Plant High School, Stewards Foundation, Hillsborough High School, Gainesville Rowing, and Tampa Catholic High School.
Sophomore Julia DiFabrizio tells everyone that asks, "Rowing is a challenging but rewarding sport. It's fun to spend time rowing on the water with friends, but winning together makes it better."
Essentially, the whole team spends every day together and which makes them closer.
Sophomore Ronnie Fair explained how it goes. "We spend two hours a day, six days a week [together], so you are bound to [make] friends. The entire team gets along very well."
Crew is not just all fun and games. It is a serious commitment. If a certain amount of people do not show for practice, they can't practice at all. Even if everyone does show up, they have to work through the rains and winds to get to the finish.
Shares sophomore Caroline Yount, "There are days when practice is difficult and miserable, but we know we want to win. That is the most fun, winning and knowing you earned the medal."
"At regattas, we arrive early to make sure our boats and equipment are ready to be raced in. We then wait at the AHN tent until about an hour before the race starts. Next, we head over to the trailer which transports the boats, and stretch. Finally, we race, and afterward spend the rest of the day [together] having fun."
Mimi Kamm, a Varsity sophomore, placed third in her single event at the Halloween Regatta.
"It felt great! It really helped me to gauge where I'm at with my competition. It also gave me a better view on how much I need to improve. I was very proud!"
Their next meet is this weekend in Augusta, Georgia for the the Head of the South Regatta.
For anyone curious of joining next year, crew is a wonderful sport to test the limits one may place on herself. It is not something that can be mastered quickly, but sophomore Caroline Yount provides insight, "Don't get discouraged. Crew is an incredibly difficult sport; it may not come easily to everyone."
View Comments (2)
About the Contributor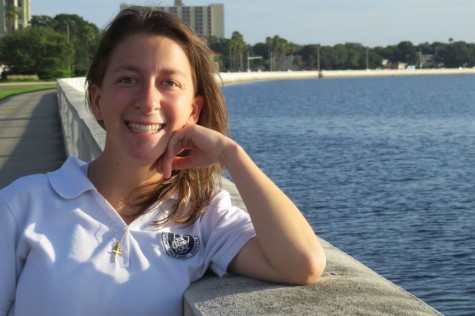 Jeanine Ramirez, News Editor
Jeanine Ramirez is an Academy senior, fourth-year journalist and the News Editor for the Achona. Following her interests in the social sciences, Jeanine...