My Experience: The First Jesuit Game of the Season
No matter what year you may be, the first Jesuit game will always be intimidating. We all get those butterflies. The freshman's may flutter a little more than a senior veteran, but ultimately it still happens. Whether you are coming to catch up with guy friends or on the hunt for a homecoming date, the Jesuit games are crucial to attend.
Some girls could spend all week planning and discussing the perfect blue and white combination for the Friday night game. On the other hand, some girls pick out their favorite pair of Nike shorts, oversized t-shirt, and sneakers or sandals. Jesuit Junior JJ Zambito advises against the regular choices: "Girls should wear Jesuit clothes, and maybe even paint up a little bit." So, next time if you have the pride show it! On the other hand, Academy Junior Grace Toups elaborates, "Jesuit boys do the classic 'painting up', their assortment of colored polo shorts, and unbrushed hair."
The actual game between Jesuit and Hardee wasn't a nail biter ; however, the boys in the stands were something to write home about. A roaring Blue Tide may look like chaos from the eye, but in reality becomes part of the entire experience.
Zambito describes Blue Tide as, "relentless, passionate, the best." Lucky for the freshman and some sophomores their Jesuit boys are still in the unsure stage if they should participate in the blue barbaric chants; giving the girls a chance to mingle for a potential homecoming date. Looks like Juniors are on their own this year. Their boys have graduated to the big leagues, and take pride in wearing that blue and white paint. The Seniors are old pros, and they've got the game figured out-but it looks like they won't be revealing their secrets any time soon.
On the other side of the Tide, all Junior Jack Cerillo had to say was, "We come to support our brothers, and maybe say 'Hi' to a few girls."
In the sweaty midst of it all, from my own experiences from the game I wanted to stand next to a friend in Blue tide, but my ticket in was a bottle of water. I returned after shuffling through the crowd of short freshman only to end up having half that water bottle accidentally spilled over me and my WHITE t-shirt. Jokes were made left and right like, 'Where's the wet t-shirt contest?' I have to admit it was pretty funny, and I'm just happy that my shirt wasn't completely see-through and everyone had a nice laugh. Despite the embarrassment, it wasn't something to cry over, but when Jesuit Junior, Myles Hahn, also drenched himself I felt a little better and restored my faith in these Men for Others. To stop the female nonsense Hahn – while most of the Jesuit students were thoroughly enjoying the game and participating in Blue Tide – kept shouting around, "Stop flirting with me and watch the game!"  This boy… No. Man. Was Myles Hahn. Way to go Buddy.
Like always, Jesuit never ceases to amaze us with their athletics. JHS won against Hardee 31-17, and the excitement showed. All Jesuit's chants paid off last night for the first win of the season! Keep it up boys, and come out to support!
Leave a Comment
About the Contributor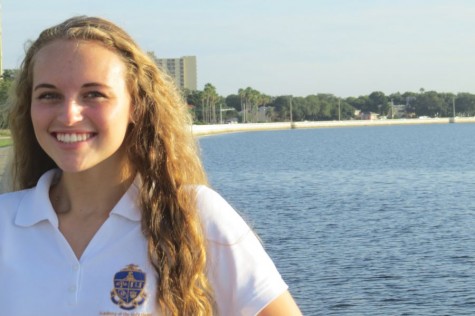 Karlee Nipper, Features Editor
Walking down the halls off Academy, it's hard to miss the bubbly laughter and "so bad they're funny" puns made by the one and only Karlee Nipper....