Caroline Lozo Commits to Play Tennis for Marist College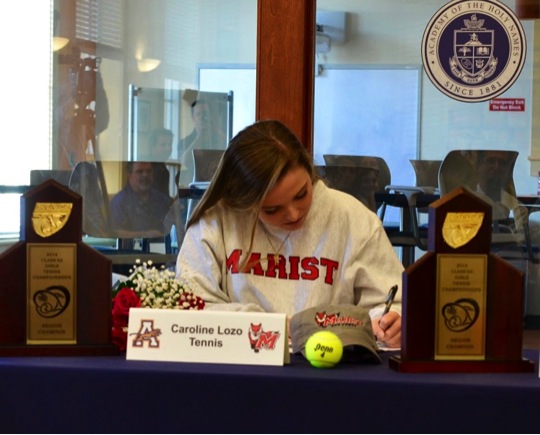 Senior Caroline Lozo has been working hard for the past 10 years toward a collegiate career in tennis. She has conquered five years on Academy's varsity team, and hopes to lead them to a sixth consecutive State Finals. Caroline holds the title of five-time district champ and five-time regional champ (in both singles and doubles) as well as two time state finalist. Her impressive accomplishments have earned her a position on the Division 1 Marist tennis team which she signed for November 14, 2014.
How did Marist hear about you?
"Through Tennisrecruiting.net; no it is not a dating website."
Did you receive any other offers?
"Yes, from many schools in the south, but I wanted to go to school in the Northeast. Also, Marist is located near a few big cities, so I think there are a multitude of opportunities for my future career."
Why is Marist the best fit for you?
"It reminds me of Academy, and it marked everything off my checklist of what I wanted."
What was on your college checklist?
"Small, private, Catholic, beautiful campus, great academics, and most importantly a tennis program with girls who have the same drive and dedication as I have."
Are you ready to take on both college and tennis?
"I have been training my whole life for this, so yeah you could say I'm ready."
What are you excited about going into playing a college sport?
"Tennis is an individual sport, so I'm very excited to experience a family-like team atmosphere for the first time in my career."
Do you have any advice to girls who are striving for an athletic scholarship like yours?
"Do not give up on your dream, rise and grind everyday, and do not forget to thank your family everyday for everything they do for you."
What do you hope to achieve at Marist?
"I want to make an impact on the tennis team, and to strive to reach my full potential in the last four years of playing the sport I love."