On January 2nd, 2023, the Buffalo Bills took on the Cincinnati Bengals in the Paycor Stadium in Cincinnati, Ohio. On this cold Monday night, they kicked off the start of what they thought was going to be an exciting matchup. Unfortunately, however, during the first quarter of the game, something happened that would change the game of football forever. At 8:55 pm, the safety for the Bills, Damar Hamlin, collided with a wide receiver on the Bengals, Tee Higgins. Hamlin stood up after the play, appearing perfectly okay, but collapsed to the ground a few seconds later.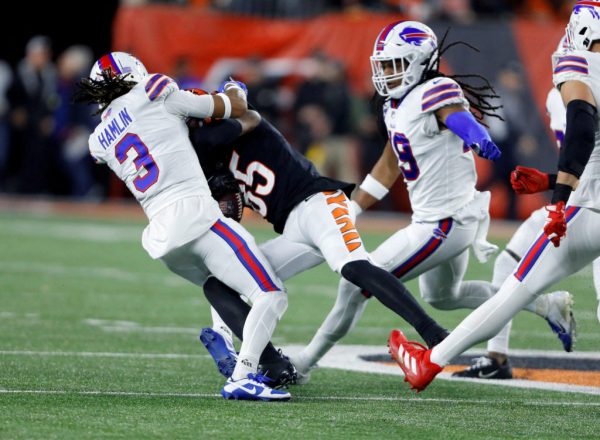 The medical professionals quickly rushed onto the field, and did CPR for 10 minutes before his heartbeat was restored. Hamlin was taken off of the field in an ambulance, and taken to the University of Cincinnati Medical Center where he was treated. The game was suspended, and all of the players on the field from both teams were very worried for their friend as they all took a knee and prayed together. Damar Hamlin continued to recover after this scary incident, which was classified as a cardiac arrest due to "commotio cordis," an infrequent cause. 
Recently, on Sunday, November 5th, the two teams were reunited to play against each other once again, in Cincinnati. This matchup was held in high significance because of the game last year. Damar Hamlin joined his team on the road, and as he walked into the stadium, he gave a hug to Tee Higgins, the same wide receiver that he collided into on his last play of the game. Hamlin stood with the same medical professionals who saved his life, whom he graciously thanked once again before the game. Viewers who watched from home on their television were able to see a short video before the game started about the importance of safety in the NFL and a shoutout to the health professionals who work so hard every day to save lives. 
View this post on Instagram
This event brought the NFL community together to understand the importance of medical teams and athlete safety. Although this topic has been discussed many times in the past, Damar Hamlin's incident shocked the nation. The medical team in the NFL, specifically the one that helped Hamlin, has been held in high regard and rewarded many times throughout the year for their dedication to saving his life. He is lucky to be able to return to the NFL soon, which is something so unlikely to happen after cardiac arrest. Although he has not played yet, he joins his team on the road for each game.