Class of 2015 radiates class at the Junior Ring Ceremony
Early morning on January 17, the class of 2015 dressed their best for the school-wide ceremony. For juniors, the preparation for the perfect look takes weeks of planning. To perfectly coordinate their outfit with accessories and shoes takes a good amount of time shopping in boutiques or online.
Junior Kate Huete anticipates the ceremony. "It's kind of nerve-racking to walk in front of people, but at the same time I can't wait."
Others felt the opposite of Huete. Junior Bailey Ferrer was not too concerned to take the stage. "I don't really get nervous for this kind of stuff. It's not a big deal to me."
As the day came, the family members of the juniors and the high school student body awaited for the procession of juniors. A loud roar was heard from inside the junior locker room, signaling that they were not only ready, but excited for the ceremony.
President Art Raimo addressed the attendees with a short anecdote on last year's junior ring ceremony where he surprised his wife with her own class ring, as she had lost hers years before. He explained the importance of the ring and the unity it brings to its wearer with other Academy graduates around the world.
Each junior had her time in the spotlight when they were called to proceed to the stage and receive their class ring. Principal Camille Jowanna bestowed it to them and offered her congratulations.
The celebration followed the juniors into the courtyard. Family members congratulated their girls and many, many pictures were taken. Students also found their junior friends to support them, as well as try to smuggle some of the celebratory cake past Mrs. Chase, to no avail. Seniors, who received their rings last year, welcomed them into the sisterhood.
Junior Kelly Lambert was one of those celebrating. "I'm just glad I didn't trip. That was my goal while I went up to get my ring."
At the end of the day, every junior's attempt at perfection for a day paid off, as many members of the AHN community marveled over how beautiful the class of 2015 is.  The Achona staff has chosen their top ten favorite outfits of the day. In no order, here is your list of best dressed.
Cristina Baldor – Her red dress with nude heels not only complimented her body, but it gave her an elegant edge as she received her ring.
Colleen Doherty – From The Look, Doherty's dress was well complimented with her stunning earrings and heels
Alison Foley – With nude heels to walk down the stage with, her red dress from DKM fit well with her body and the occasion.
Isabella Gonzalez – Not only was her hair perfectly straight, but her white dress flowed nicely on her.
Frances Kratz – Switching up the juniors' dress game, Kratz came in with her matching pantsuit.
Carmelle Kuizon – She matched her white and gold dress with simple black-strapped wedges and a classy black blazer.
Julia Metzger – She bought her dress from Keys Country and complemented it with wedges to complete her look.
Gaby Ruiz – With another dress from The Look, Ruiz matched the red fabric with gold shoes and accessories to perfect a regal look.
Natalie Smith – Her blue dress fit perfectly on her and matched its black fringe with equally perfect black shoes.
Courtney Vogler – Like the model she is, Vogler strutted down the stage with a cute, yet simple dress.
[nggallery id=360]
Leave a Comment
About the Contributor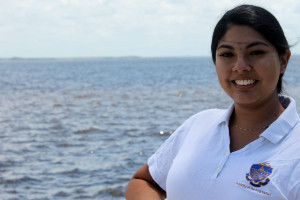 Sam Vargas, News Editor
Sam Vargas, a major contributor to the Golden Veins section of Achona as a student in Creative Writing in Fall 2012, joined the Honors Journalism Class...