Class of 2015's Graduation at the Straz
On May 21st, 2015, the Class of 2015 joined together for one last time for their most precious AHN event: Graduation. The ceremony took place in a venue other than Academy's campus for the first time this year. At the Straz Center downtown, the lighting and seating placed all eyes on the graduates giving the venue a sentimental ambiance. The graduating girls gracefully strolled into position with elegant crisp white caps and gowns. Those with gold cords hold special honors as members of National Honor Society.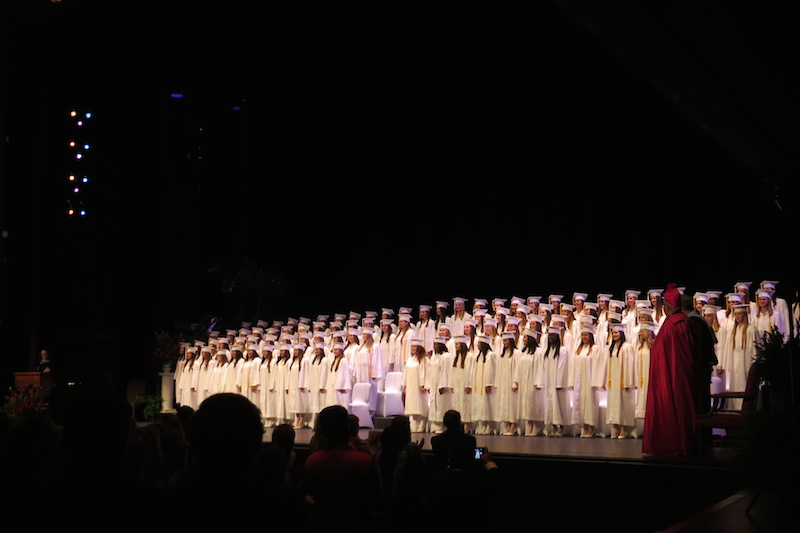 To begin, just as all things begin at the Academy, we began with prayer administered by senior class officers, Sofia Gonzalez and Chaveli DeGuzman. Mr. Raimo shared what an honor it is to have watched these girls grow from freshman into the beautiful high school graduates they are today and gave his best wishes for their future. The girls, in turn, beamed in gratitude for all that Mr. Raimo has done for them. Then, Gillian Earl followed with her Salutatorian speech where she thanked everyone, especially her parents, for everything they have done to help her blossom into such an accomplished young adult. She shares her love for all her sisters by testifying that this years' theme, "Celebrating Each, Other Creating a Family," entirely exemplifies the love their class has for each other.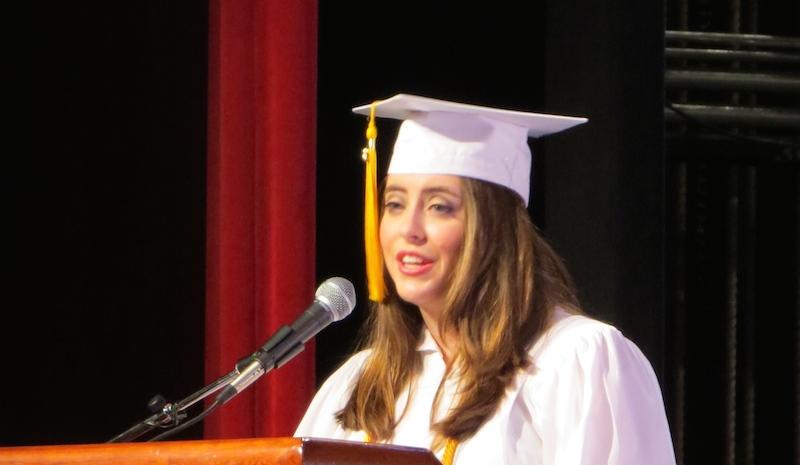 Principal Camille Jowanna served as the host of ceremony and recognized the honorary graduates for their outstanding achievements. Magali Valiente won the Blessed Marie Durocher award for she exemplifies all that our foundress stood for as an Academy woman. Gillian Earl's speech as Salutatorian was incredibly moving, and soon, it was time to distribute the diplomas.
As is tradition, the girls received their diplomas from Bishop Lynch and bouquet of red roses from the adorably sweet first grade girls of the Academy elementary school. This was the real tear jerker of the night. Parents saw the little ones, as their daughters at that age, next to their now grown graduating young women.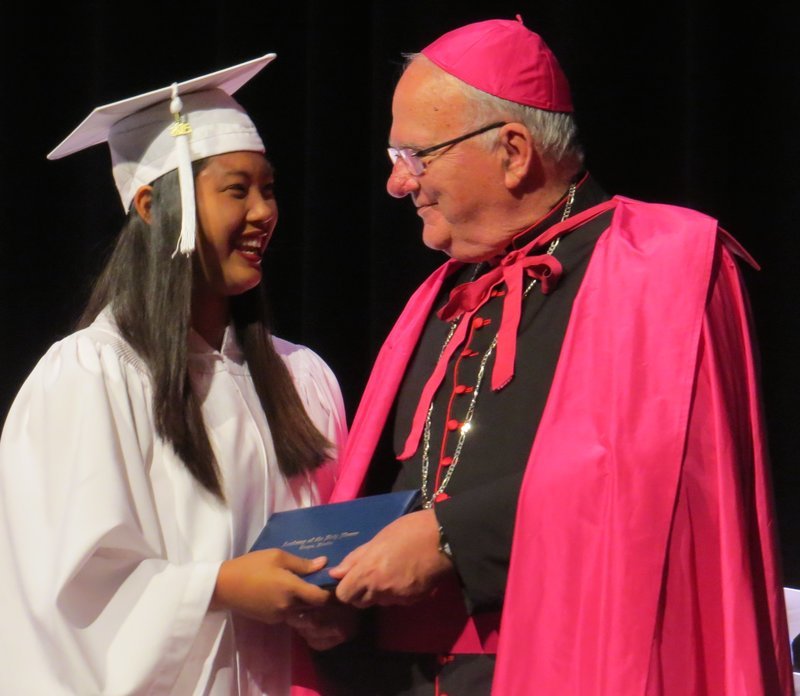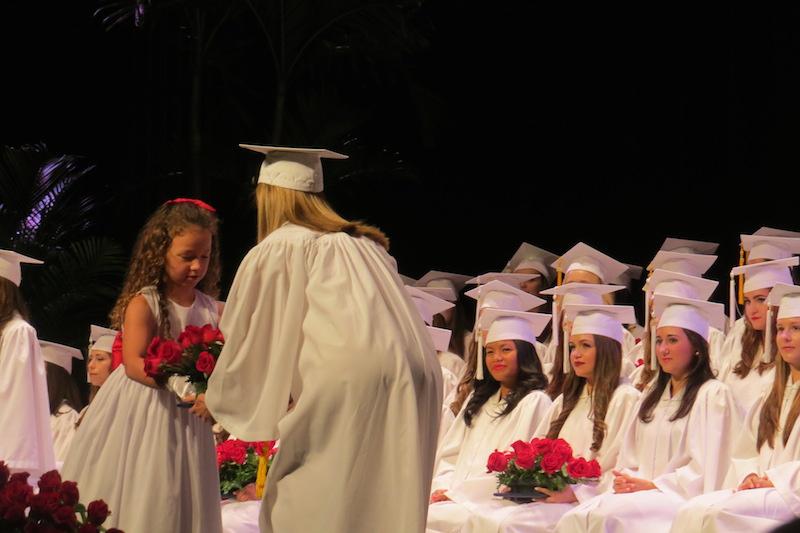 Once Principal Jowanna announced the Class of 2015 as official graduates of the Academy of the Holy Names, Valedictorian, Madelin Babin, took the mic to give her insightful speech. She began playfully by stating that no one would remember her speech, but everyone did due to her gracious words. Babin explained that a multitude of people have said, "High school is the best years of your life," but it is absolutely not true.  that we need to acknowledge when we fail, then regroup and try again." She has confidence that each graduate of the class of 2015 still has the best years ahead of her. She goes on to say that each girl has the necessary beautiful qualities that will carry her far in the journeys of her life.  After this encouraging statement, Babin continues by touching on the terms of success and failure. "The Academy has taught us the value of being proud of when we do succeed; it has taught us that sometimes, despite our best efforts, we will fail. We learned that we need to acknowledge when we fail, then regroup and try again." Babin signs off by reminding the class of their most cherished memories and is excited to see what the future holds for each of these girls.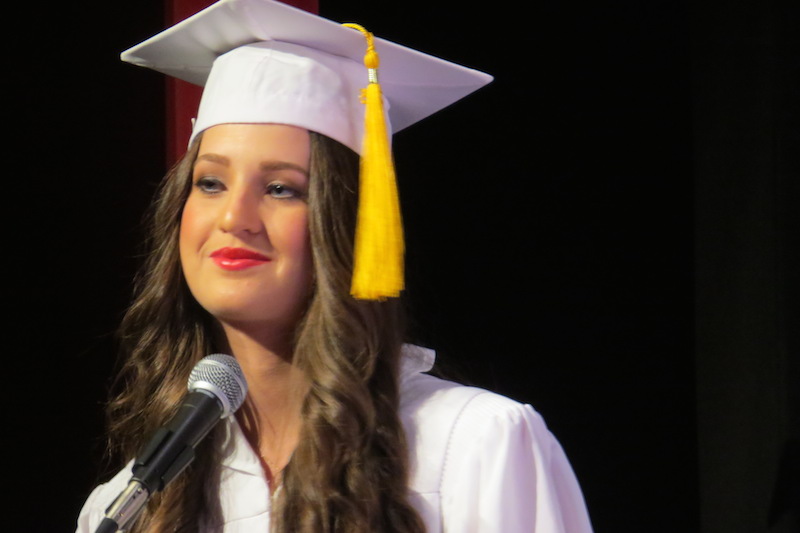 Chaveli DeGuzman and Sofia Gonzalez as Senior class officers ended the night with a closing prayer, and Bishop Lynch closes the ceremony playfully with his words of encouragement, donation of his special Academy graduation, and the memories he has cherished serving at each Academy graduation.
Congratulations and best of wishes to our class of 2015 sisters!