The Class of 2018 Sophomore Retreat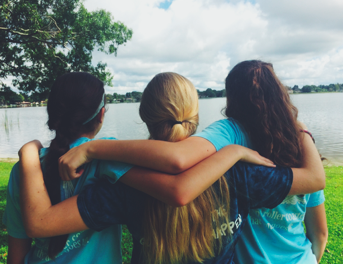 Every year, the sophomore class comes together to grow in faith and sisterhood. On October 2 at 8:15, 114 girls from the class of 2018 piled into two buses to embark on their journey to Mary Help of Christians Center in Tampa. The class was accompanied by Mrs. Katie Holland, Mrs. Rebeca Zambrano, and Mr. Felix Kalinowski. Upon arrival, girls were greeted by Salesian workers at the center and entered the gymnasium.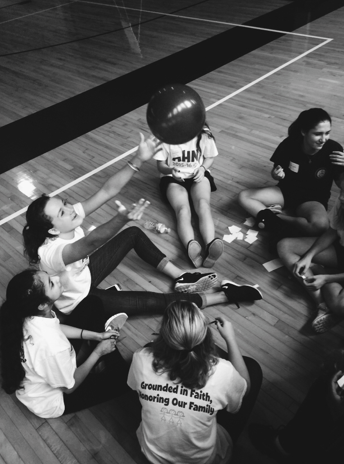 After experiencing a warm welcome, youth minister Kaitlin Berger had arrived to present the subject of faith in God, and how they can apply it. Berger stated, "Friday, October 2nd, I had the blessing of speaking at the sophomore retreat at Mary Help of Christians.  I was impressed by the joy and enthusiasm of this Class!  I loved watching them jump right into the icebreakers and they carried that spirit right through the talk I gave about what it means to be created by God."
Upon speaking to the class, she left the class with the following message: "I want to share one final word of encouragement- Ladies, hold on to the truth that God has an amazing plan for each of your lives! (Jeremiah 29:11-14)  That plan is better and will bring you more joy than any plan you create yourself.  Don't settle for anything!  Hold out for God's plan and His timing.  He has given you desires that He wants to fulfill through your vocation.  All your experiences, gifts, and personality traits were intentionally given to you so that you can do what God is calling you to do! Christ came so that we might have life and have it ABUNDANTLY!  (John 10:10) When you are starting to doubt this truth, I challenge you to affirm and encourage one another.  Go back to these scriptures and ask God to speak to you through them."
After listening closely to Berger's words of inspiration, students were then led into small groups directed by teachers to reflect on what they had taken from the talk. Sophomore Haley Hemmings stated, "The speech we were given has honestly changed my life. I have always had an interest in ministry, and Kaitlin really inspired me to want to work in the church."
Students also received the chance to express their feelings on how their school year was going, and discuss ways they can improve their grade. As a leader of one small group, Chemistry teacher Rebeca Zambrano proudly stated, "I really enjoyed how the girls responded to what was given to them, and how well they reflected."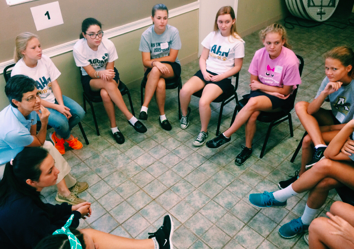 Following the small group conversations, girls were lead to the chapel to participate in a quick mass celebrated by father Steve Ryan. Ryan talked about keeping a connection with God, and remembering to ask for forgiveness. Girls were then given the chance to attend reconciliation and adoration. Sophomore Mia Lopez proclaimed, "I really like how after mass, we had the chance to have adoration and spend time with God."
 While some chose to spend more time in the chapel, others ate lunch and then had free time to explore the center. Most girls were drawn to the barn, where the horses, pigs, chickens, goats, and turkeys of the center lived. Kayla Eckermann states, "My most favorite part of the whole day was getting to discover the barn. I met a really cool pig named Rosie, and I fell in love with her."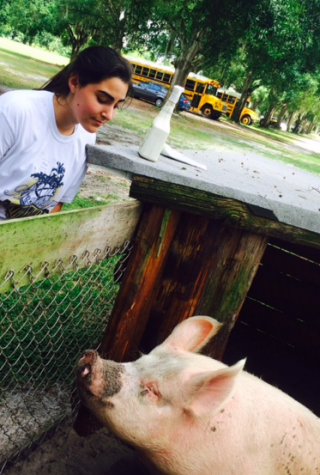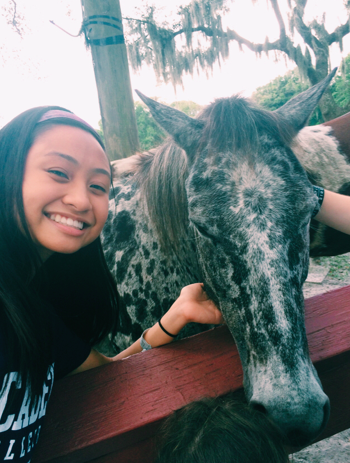 At 2:00, the class was gathered on the buses to make their way back to Bayshore. While driving home, many reflected on their day and all they had learned about their sisters and God. "It was a very enlightening experience, and I am so glad we got the chance to go," shares Emma Zazzero.  All in all, most of the class of 2018 enjoyed their day of unlimited time with God. Sophia Doussan exclaims, "I had such a great day being able to bond with my sisters, and I cannot wait for our next one!"
About the Writer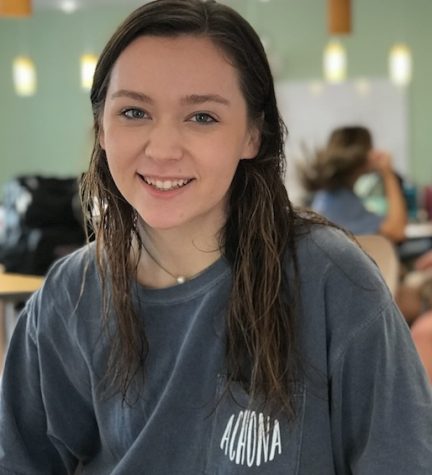 Audrey Diaz, Editor-in-Chief
Audrey Diaz is an Academy senior, a third-year journalist, and Editor-in-chief for Achona. Although she is slightly nervous for the pressures that accompany...