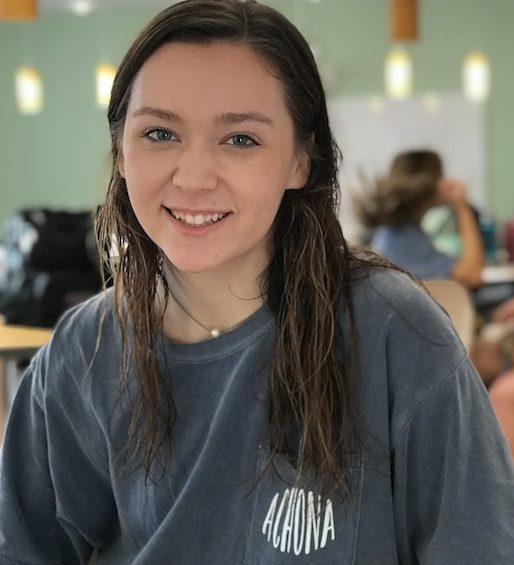 Audrey Diaz is an Academy senior, a third-year journalist, and Editor-in-chief for Achona. Although she is slightly nervous for the pressures that accompany her position, she is confident in having support from her fellow editors. She has a passion for organization and planning as she feels it keeps her life in place, and loves any chance she can use it to help others. As a senior, Audrey is most excited about cherishing her year of "lasts", and taking everything that Academy has taught her and applying it to her future. In school, Audrey is an Academy Ambassador, a cast member in the annual musical, and a member of Beta, English and Quill & Scroll National Honors Societies. Her favorite subject is AP Human Geography because it teaches her about the way the world works and the reasonings behind it.  When not at practice for the
Jaguarettes Dance Team
, Audrey can be found watching "
Scandal
", researching conspiracy theories and crime scene investigations, drinking green tea, watching
Corgi
videos, or cuddling with her rescue chihuahua, Remi. She is weirdly good at remembering middle names, and peanut butter is her favorite "food group." After graduating from college as a communications major, Audrey is interested in becoming a public relations specialist with a focus on crisis management for a government or entertainment corporation. In her future career, she hopes to find creative ways to help foster the relationships between her clients and the media.
Audrey Diaz, Editor-in-Chief
May 07, 2018

Spooky Surprises of Senior Year with Audrey and Mia

(Story)

Apr 25, 2018

Get Ready With Nyla Jacobs As She Preps for Cinderella

(Story)

Mar 23, 2018

Appalachian Missionaries Serve in Pipestem, West Virginia

(Story)

Mar 08, 2018

HOA: Lauren Jones Launches Lifestyle Instagram

(Story)

Feb 28, 2018

Appalachia Missionaries Serve at South Tampa Farm

(Story)

Feb 20, 2018

AHN Hosts Annual Hunger Banquet

(Story)

Jan 30, 2018

Best Dressed at Junior Ring 2018

(Story)

Jan 18, 2018

Jaguarettes Compete at UDA's Florida State Dance Championships

(Story)

Jan 18, 2018

The Class of 2018 Embarks On Their Last Semester

(Story)

Dec 05, 2017

The Class of 2018 Presents Movie on the Lawn

(Story)

Nov 30, 2017

Jaguarettes Take on New York City (Vlog)

(Story)

Nov 17, 2017

AP Literature Writes Slam Poems

(Story)

Nov 08, 2017

Academy Students Participate in a 'Feuding' Convocation

(Story)

Nov 01, 2017

Questions That Only Academy Girls Ask

(Story)

Oct 23, 2017

A(cat)emy Girls and Their Felines

(Story)

Oct 13, 2017

Lindsey Perez Shoots for 1000 Points This Upcoming Basketball Season

(Story)

Oct 06, 2017

HOA: Senior McKenna Weathers Walks for the Cure

(Story)

Sep 28, 2017

Meet the Class of 2018's Representatives

(Story)

Sep 21, 2017

Humans of Academy: Alexa and Amelia Traviesa Summit Mount Kilimanjaro

(Story)

Sep 02, 2017

Class of 2021 Academy Impressions

(Story)

May 19, 2017

Senior Honors Convocation 2017

(Story)

May 15, 2017

Teachers: They're Just Like Us!

(Story)

May 04, 2017

Arts Fest 2017 Opens New Bailey Center for the Arts

(Story)

Apr 25, 2017

Humans of Academy: Junior Caitlin Shannon Appears on the Harry Connick Jr. Show for Non-Profit Organization

(Story)

Apr 06, 2017

Mr. Sloshberg's Favorite Puns

(Story)

Mar 23, 2017

Junior Grace Wipfli Prepares to Take On Her First Lead Role as "Remi" in Footloose

(Story)

Mar 07, 2017

20 Surprisingly Vegan Snack Foods

(Story)

Feb 24, 2017

Things Only People With ADHD Understand

(Story)

Feb 12, 2017

HOA: Devin Folkman Appears on Puppy Bowl Commercial

(Story)

Feb 02, 2017

Poetry Out Loud 2017

(Story)

Jan 27, 2017

Evan Greek Attends Inuaguration

(Story)

Jan 18, 2017

8 Celebrities You Didn't Know Went to An All-Girls School

(Story)

Jan 09, 2017

Do's and Don'ts of Junior Ring

(Story)

Dec 03, 2016

How to Tell Where Your AHN Sister Attended Middle School

(Story)

Nov 15, 2016

28 Questions with Ms. Emily Pantelis

(Story)

Nov 07, 2016

5 Tips for Going Vegan with Morgan Salzsieder

(Story)

Nov 01, 2016

Life Skills You Learn From Going to AHN

(Story)

Oct 24, 2016

The Ice Cream Cleanse Phenomenon

(Story)

Oct 18, 2016

Four AHN Alums Return "Home" to AHN

(Story)

Sep 26, 2016

'The Case of: JonBenét Ramsey' Recap

(Story)

Sep 16, 2016

Secret spots at AHN you never knew existed

(Story)

Sep 08, 2016

Mr. Art Raimo: A Day in the Life

(Story)

Sep 08, 2016

The Ten Stages of Becoming Obsessed with Hamilton

(Story)

Aug 19, 2016

Class of 2020: Freshman Perspectives

(Story)

May 31, 2016

Sophomore Year in Perspective

(Story)

May 23, 2016
May 12, 2016

Things teachers are tired of hearing

(Story)

May 02, 2016

If Teachers Were Dogs

(Story)

Apr 22, 2016

AHN's Favorite Broadway Shows

(Story)

Apr 18, 2016

10 Things Only Fitbit Owners Understand

(Story)

Apr 08, 2016

AHN's First National Dance Honors Society

(Story)

Mar 18, 2016

10 Emotional Stages of Being a Chemistry Student

(Story)

Mar 04, 2016

Teacher's Pets (Updated)

(Story)

Feb 29, 2016

South Tampa's Mini Donut Factory

(Story)

Feb 19, 2016

Life advice according to Mrs. Beth Chase

(Story)

Feb 05, 2016

Feelings You Have When You Don't Make the Team

(Story)

Jan 27, 2016

Harry Potter's Alan Rickman dies at age 69

(Story)

Jan 18, 2016

Tampa's next big thing: Ramen

(Story)

Dec 09, 2015

Awkward Family Encounters Over the Holidays

(Story)

Dec 09, 2015

ACHONA's Gift Ideas

(Media)

Nov 30, 2015

Tips on Staying Focused During Class

(Story)

Nov 16, 2015

Humans of Academy: Caitlin Shannon brings "Sparkle Power" to chronically ill children

(Story)

Nov 11, 2015

Best South Tampa Restaurants for Celebrating Your Birthday

(Story)

Oct 28, 2015

The Class of 2018 Sophomore Retreat

(Story)

Oct 13, 2015

AP Government and Civics Teacher Stacy Filocco Takes on new role as JV Basketball Coach

(Story)

Sep 25, 2015

10 Signs You Go To AHN

(Story)

Sep 21, 2015

Academy's Newest Addition: The 2nd Floor Lounge

(Story)

Sep 15, 2015

A Day in the Life of Sister Ann Regan

(Story)