AHN Speech and Debate Team Excel at Catholic Forensic League Competition
National Forensic League (NFL) is a club that is devoted to promoting and organizing ambitious speech and debate competitions, activities, trainings, scholarship opportunities, and awareness.  On January 17, five Academy of the Holy Names students of the Speech and Debate Team traveled to St. Petersburg High School to compete in the tournament of the Florida Gulf Coast Catholic Forensic League.  Freshman Megan DeVaney came in third place in Declamation and Junior Mary Kate Magyar came in second place in Oral Interpretation.
The Speech and Debate Club has fifteen members and is coached by Religion teacher, Jamie Meyer.  
When asked about the Speech and Debate team Meyers commented, "My favorite part about coaching is seeing improvement in those individuals who persevere and try to get better at their events.  I also find joy when members of the team are supportive of and genuinely happy for their teammates who are successful."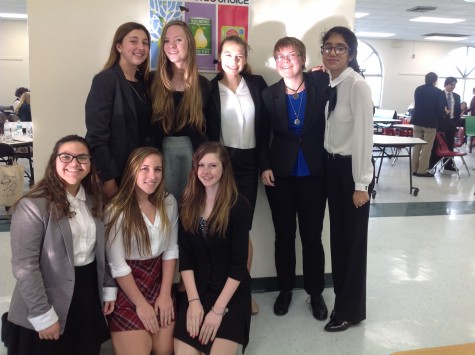 AHN freshman Greta Dieck is a first time member on the Speech and Debate team.  "I like watching other team members and people from other schools perform their speeches in competition. It's really impressive to see people perform not just speeches they have memorized but delivered as their own.  It is also interesting to watch high school kids debating on and having a thorough knowledge of issues that most adults aren't even aware of."
According to the Georgia Forensic Coaches Association, "Speech and debate programs sharpen student's abilities to research and analyze problems, think and listen critically, express their thoughts clearly and fluently, and better understand public affairs. With many experts calling the 21st century economy "cognitive," it's more important than ever to teach young people how to think."
The AHN Speech and Debate Club has helped students conquer the fear of public speaking, challenges all of its members to do something they've never done before, and step out of their comfort zones.  
I joined because by it was something I wouldn't normally do; I wanted to challenge myself. I am not the type of person to enjoy speaking in front of people, but debate club has made me more confident in that aspect, " shares freshmen, Megan Devaney.
DeVaney recited a speech called, "If I Should Have a Daughter" by Sarah Kay. DeVaney shared that being able to recite a speech that she feels passionate about helps her overall performance.
DeVaney expressed how the her understanding of the speech help her recitation, "The  speech that Kay gave as a message to her future daughter about all of the things she learned in her life. I really liked my speech because everything she was saying I truly believed myself, so putting emotion into it wasn't difficult."
This was DeVaney first time in a speech and debate competition and she placed third place in the meet.
" I was very shocked at placing third but it also motivated me to worker harder."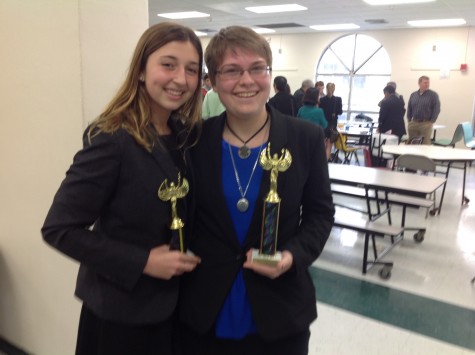 The AHN Speech and Debate team are preparing now for the NSDA Tournament to qualify for Nationals in the National Forensic League is this coming weekend, January 30 and 31, at Wharton High School.