Say Hello to Bye-Bye Birdie!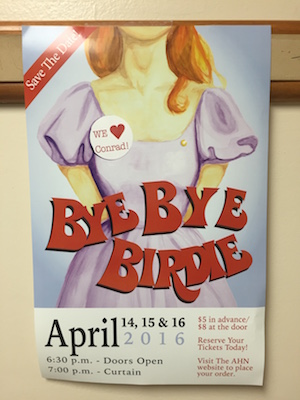 This week the students of the Academy of the Holy Names will be performing the hit Broadway musical Bye Bye Birdie. AHN students and friends have been rehearsing for months, getting ready to show off and share their hard work and talent. Students, friends, and families are excited to experience AHN's next big musical hit. Last year, AHN's big performance, Hairspray!, sold up to 500 tickets a night and thus was a huge success.
Do yourself a favor and go see hairspray!! pic.twitter.com/imA6eUHYLx

— Achona (@AchonaOnline) February 28, 2015
Now, with the end of the school year approaching quickly, Bye-Bye Birdie is in full swing and there is high hopes for a large turnout and lots of talk around the school. Already, numbers of tickets have been sold for the three performances. It will be filled with bright colors, catchy musical numbers, and awesome sets designed by some of AHN's very own students.
Senior Maggie Marquart, one of the Sweet Apple Teens, can't wait for Bye Bye Birdie to begin: "We've spent so much time and effort on this production and we know its gonna be a big hit! We are so excited to perform it!"
Bye-Bye Birdie takes place in Sweet Apple, Ohio in the early 60's when the famous singer Conrad Birdie, every teenage girls celebrity crush, is drafted into the war.  (To put it into perspective, Conrad Birdie was like Justin Bieber or Adam Levine of the 60's.) Kim MacAfee, a lucky member of the Conrad Birdie fan club, is picked to be the last girl Conrad kisses before he leaves for the war.
Junior, Khalea Armstrong, another Sweet Apple Teen said, "I think it's going to have a great turnout! Every student is involved and important in Bye Bye Birdie. The Sweet Apple Chorus is the giddy childlike side of things. They liven it up and add a ton of energy."
The 1963  performance was nominated for several Tony Awards in 1961 and won Best Musical, Best Featured Actor in a Musical – Dick Van Dyke, Best Choreography, and Best Direction of a Musical. Throughout the film and theatrical versions of Bye Bye Birdie, the cast has been star studded. Famous leads include Dick Van Dyke, Chita Rivera, Janet Leigh, Ann-Margret, and John Stamos. In the 2016 AHN performance, Christian Meany will play Albert, Remi Storch and Marie Dela Cruz will share the role of Rosie, and Rachel Tata will play Kim.
From the BroadwayWorld Vaults: Relive the Magic of BYE BYE BIRDIE!https://t.co/V6sDzidMeO pic.twitter.com/4Tu7W1ACCa

— BroadwayWorld (@BroadwayWorld) March 24, 2016
Everyone involved with the play is looking forward to it, even concessions. Senior Kristina Kennedy, who works in concessions and to create the programs, stated: "I think it will be cute. I'm excited to see the final product because I've been watching it being built. People have been working very hard for this, I think it'll be great!"
Conrad Is Coming! Purchase your Bye Bye Birdie tickets today! https://t.co/dh6bUz2XzT pic.twitter.com/oaM1SQD4VS

— AHN Jaguars (@holynamestpa) April 8, 2016
Click here to view the whole video.
Bye Bye Birdie will be be performed on campus in the Brady Center on April 14, 15, and 16.  Doors will open at 6:30 p.m. and curtain will be at 7:00 p.m. Tickets are on sale online for $5 and $8 at the door.