AHN Students Complete Class Murals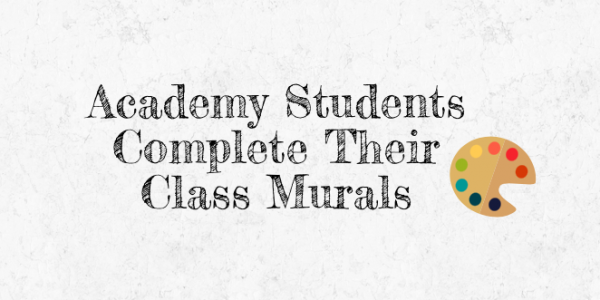 On Jan. 28, students were given the opportunity to create murals on the fourth floor before construction occurred. They were completed on Friday, March 1st. 
The freshmen were given the theme of passion. The class chose to paint the different clubs, sports, and extracurriculars they are passionate about. Ribbons were also painted to signify the friendships and trust that unite their class.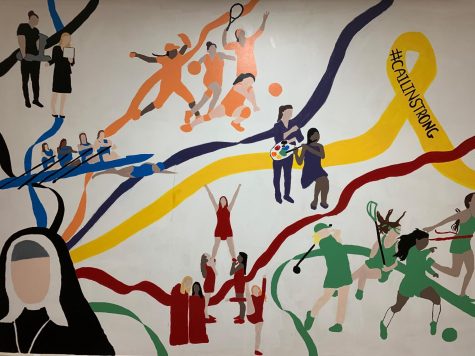 Laura Caroline Jung ('22) says, "The yellow ribbon forms a loop to honor Cailin Cannella, who, if she had survived her battle with cancer, would have been in our class. I believe that when anything is done with passion, the benefits are exponentially greater for everyone involved. Personally, I was drawn to the mural because I saw it as an opportunity not only to express myself but to literally make my mark on the school."
The sophomores chose to portray their theme of "integrity" by painting famous women in history such as Elizabeth Cady Stanton, Rosa Parks, and Malala Yousafzai. 
Abby Miller ('21) says, "We wanted to pick women who did great things and made great contributions to the world. Working on this mural has been an amazing opportunity. Lauren Anderson's idea for the mural was so great and it was amazing to see her put it on the wall."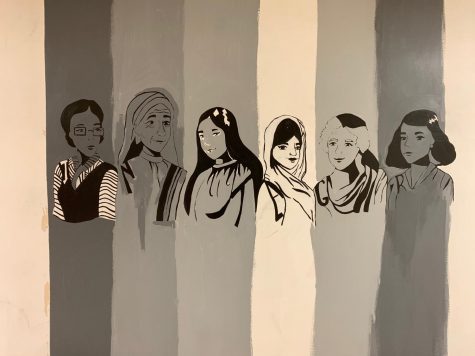 The juniors had the idea of creating the Bayshore wall and putting a picture of each girl in the class of 2020 to make up the word "unity".
The final plan changed when "as of the last set of the day on Friday, Feb. 22, the Junior mural was blank. Maddy Kurtz had begun to outline the beautiful bayshore but other than that nothing was concrete. Immediately, Mrs. Chase's AP Micro set recognized this and got to work when the seniors were gone for the day. Soon, study halls began to join and help. It was truly amazing to watch. People who had previously criticized their own artistic talents overcame their fear of imperfection and, collectively, we worked as a unit to complete the mural within the one 80 minute set. Although the mural itself does not explicitly portray the theme, the communion of color and the teamwork that went into its construction is definitive of the message," says Lauren Jones ('20).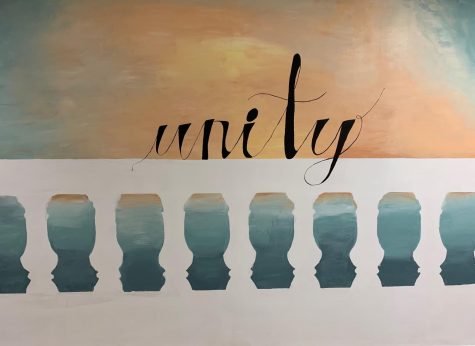 Seniors were given the theme of "courage" and decided to paint the Serenity Prayer along with a tightrope and then have an AHN girl walking across it.
The mural has not been completed, but it is located on the wall near the guidance office.
Chanita Belcher ('19) says, "Our plan has remained the same throughout the weeks of us working on it. Everyone in our class has been working well together and been very helpful to make our message clear. We hope to finish it soon."