Since 2017, many Academy students have loved the annual Chain Reaction field day. This year, the event is on Friday, September 15, 2023, and will provide fun games, delicious treats, and even shaving or getting tinsel in your hair. The event will begin right after school from 3:30 to 5:30.
Chain Reaction was started by Laura Caroline Jung and Chloe Mintz, two academy students who graduated in 2022, to honor their friend Cailin Cannella, who lost her battle with cancer in September 2017. Since then, the event has become a successful fundraiser that brings the community together while raising money for Pediatric Cancer. The CailinStrong organization, a partner of the event, was also created after the loss of Cailin Cannella to continue her legacy.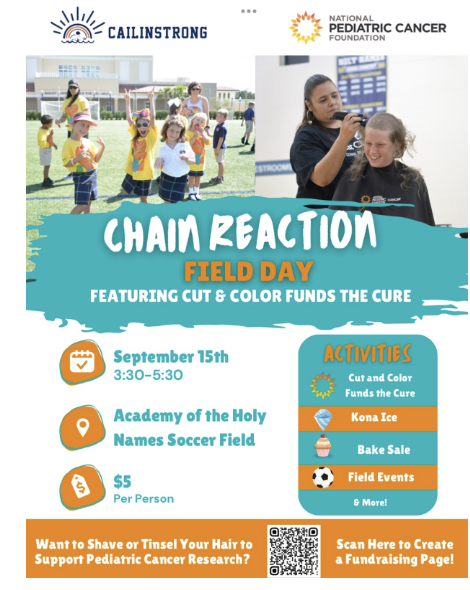 Chain Reaction official event flyer with date and time.
Photo Credit: Ashlin Cannella/Used with Permission 
Ashlin Cannella, sister of Cailin Cannella, has helped grow and develop the Chain Reaction event. Over the years, she has become a prominent leader in the fundraiser by helping with the event's planning, partnering with pediatric children's hospitals all over Tampa Bay, and making a significant impact at Academy and in her community. For example, last year, Ashlin and the Chain Reaction club at Academy partnered with Children's Cancer Center, a resource center for families and kids undergoing cancer treatment, to make care baskets for Pediatric Cancer kids. 
"I am the leader of the Chain Reaction club here at Academy. Chain Reaction is an event devoted to raising money to help cure osteosarcoma and spread awareness about childhood cancer. The help and support my event has received from the academy community has made a huge impact, and I can't wait to watch the growth of this event for years to come." said Ashlin Canella ('12)
Chain Reaction is a field day event that all ages can enjoy. This year, the event will have fun activities like pie the teacher in the face, kickball on the softball field, and much more. The event will also provide delicious treats and food. The dads club will be grilling hamburgers and hotdogs and also providing drinks. There will be a bake sale and a Kona Ice truck for dessert. All the money raised on food and beverages will be donated to the CailinStrong Foundation, which uses the money to help organizations fund trials for osteosarcoma research. 
View this profile on Instagram
This year, Chain Reaction is partnering with the National Pediatric Cancer Foundation to host a Cut & Color funds the Cure event. This event will be held during the Chain Reaction field day in the gym starting at 3:30. The event provides hair-shaving for boys and colorful tinsel for the girls if you create a fundraising page or donate money to the foundation.
View this post on Instagram
Participating in Chain Reaction is a great way to give back to your community and help support kids fighting pediatric cancer. The CailinStrong Foundation, which handles the donations received from Chain Reaction, was formed in honor of Cailin Canella, who succumbed to osteosarcoma when she was 14. In light of this tragedy, the organization has worked to continue her legacy and share her empowering story with many people. With the money raised from Chain Reaction, the CailinStrong Foundation will donate it to organizations to help them in their trials and research to find new treatments for Kids with osteosarcoma. Chain Reaction is an important event that helps continue the legacy of Cailin Cannella and her battle against cancer.