Arrive alive: Don't text and drive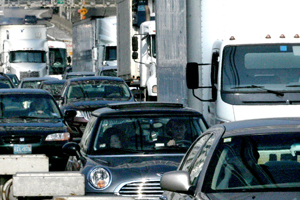 Have you ever driven with a driver, or spotted one in another car, with two thumbs on the phone, two eyes reading the screen, and two feet operating the pedals of a car? 
A recent report by CBS News stated that "Studies show that texting or using a cell-phone while driving is like having a blood-alcohol level of 0.08 percent.  Texting and driving is a dangerous action in which many lives are put at risk including both the driver and those around the driver. 
This action –  texting and driving – "has increased recently because of an increase in technology and the want of instant gratification," says parent Deborah Norris. 
People of all ages fall victim to texting and driving.  "Nearly 6,000 people died in 2008 in crashes involving a distracted or inattentive driver, and more than half a million were injured,"  reports staff reporter Ben Rooney of CNN .
 "Part of the problem may be that when people direct their attention to sound, the visual capacity of their brain decreases,"  states Gilbert Cruz and Kristi Oloffson of Time Magazine.   "It can be as if a driver is seeing the image in her head of the person she is talking to, thereby decreasing her ability to see what's actually in front of her." 
Despite that the number of deaths related to texting and driving continues to increase, the number of people who text and drive is also on the rise.   "In July 2007, 61 percent of teens ages 16 to 17 admit to risky driving habits.  Of this group of risky drivers, 46 percent say they text message while driving," states Lis Wiehl, a legal analyst for Fox-News.
 "I do not text and drive because it distracts me from the road and puts others at risk," said one Academy senior.
Putting the phone down is the most effective way to reduce the effects of texting and driving.  In addition to refusing to text and drive, many students  believe texting and driving should be illegal. 
Among those who agree are Christopher and Deborah Norris, parents of two young adults ages 17 and 20,  Beth Sawyer, ninth grade English teacher at Academy,  and Dale Kelly, Temple Terrace police officer.  So do 78 percent of about 200 readers of the Daily Fuel Economy Tip, reports Brian Carr.
For those who believe texting and driving should be illegal, many differ on the consequences for those who break the law.  Officer Kelly states that the driver should be issued a traffic citation. The Academy student  believes  a $100 ticket would be a fair penalty, while Sawyer believes a $250 ticket is appropriate.  Deborah Norris differs from her husband Christopher in her proposal of  a $150 fine.    He feels that the license of the driver should be revoked.   
No matter what the consequence, Kelly believes once texting and driving becomes illegal, the number of related crashes will decrease.  In almost every crash to which Kelly responds, he reports that generally at least one person involved was on a mobile device. 
As technology begins to consume our lives, we must consider the consequences.  Should texting and driving be illegal or do you want to be the next person involved in an accident?  Make a conscious decision and put the phone down.  It may save a life.