Organic vs inorganic: Cost and appearance still important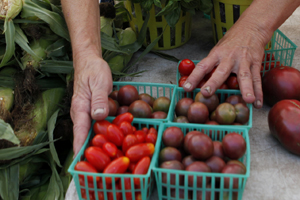 When you are at the supermarket buying groceries to make your world-famous lasagna,  the first ingredients that flash in your mind are tomatoes. You casually walk over to the produce section where you see two sections of vine-ripened tomatoes. They look exactly the same except for one factor: one has a sticker that says USDA Organic and the other does not. What exactly does organic mean? Is it nutritious? Is it any different from locally grown food?
There are many misconceptions on the definition of what is considered "organic" as seen on the stickers posted on cereal boxes, produce and meat. The Mayo Clinic website defines organic products are those that are made without "pesticides, antibiotics, and irradiation and chemical fertilizers."  Simply put, organic food is grown or processed differently from conventionally grown food.
 "Organic farming practices are designed to encourage soil and water conservation and reduce pollution," explains Mayo Clinic.com.  In other words, organic food benefits the environment.
 Farmers use different techniques to cultivate their soil and feed their animals organically grown food in order to ensure the produce or meat's true organic value.   "Hormone free" or "all natural" does not mean that the food is organically grown. This labeling is one way food producers attempt to fool the consumers.
But why has the organic food market boomed in the United States? Even Wal-Mart has increased their stocks of organic food.  Time has analyzed that almost a "quarter of Americans buy organic products once a week."  Influential in this new buying trend may be recent studies that have shown that organic food is more nutritious than regular food. The Journal of Agricultural and Food Chemistry, for example, has stated that "organically grown tomatoes have significantly more vitamin C than conventional tomatoes", however, the USDA has not concurred with reports that organic food is more nutritious than any other kind of food.
Organic food proponents voice concerns about pesticides sprayed on produce during the growth cycle, which leads to a waxy residue on the fruit or vegetable. Many consumers think the residue leads to cancer; however, studies so far have not shown a link between cancer and the residue from pesticide-sprayed food products.
Locally grown conventional food, which does not necessitate packing and shipping costs, attracts many consumers because of the lower cost and the savings to the environment.  In addition, even though organic food contains no added hormones, organic produce may not be uniform in size, shape and color. Thus, many consumers prefer conventional produce for this uniformity in appearance.
When it comes to the factor of taste, Mayo Clinic conducted a study on the difference in taste between inorganic and organic foods and concluded that "taste is a subjective and personal consideration, so decide for yourself. But whether you buy organic or not, finding the freshest foods available may have the biggest impact on taste."
Columbia University nutritionist Joan Dye Gussow explains to Time Magazine why she prefers locally grown food instead of organic food. "The first is the taste of the live food; the second is my relation to frugality; the third is my deep concern about the state of the planet."
Thus, consumers faithfully look towards three points when grocery shopping for organic foods: taste, price, and the economic flow.  When you have to decide between tomatoes with USDA stickers or tomatoes without them, it comes down to what really matters to you the most: cost, the environment or lack of residue caused by pesticides.