Halloween comes early at AHN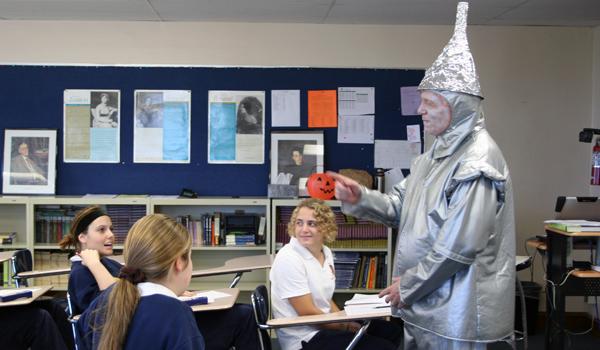 Cara Millburg, and Paige Schaefer, Features Editor
November 11, 2010
Academy students kicked off Halloween a few days early on Friday, October 29. Dressed for the Lower School Halloween Parade, Dr. Harry Purpur, Academy President,  and Ms. Maureen Martineau, Executive Secretary,  dropped by high school classes to share some of their newfound wisdom from the "Land of Oz."  Students who could answer classic movie trivia questions correctly "treated" themselves to candy from Dorothy's basket.
Earlier that morning the senior class paraded  the halls wearing a variety of ghost costumes , masks, animal ears, and wands. The seniors not only "haunted" the school, but they generously handed out candy in the freshman locker room and opened the doors of the Senior Lounge for "Trick or Treating" from the underclassswomen.  The Morning Show even got into the act with a freakishly Friday special on local witches.
"I loved how everybody was so festive." said senior Sasha Dominguez. "This is one of my favorite Academy memories."
Student Council played their part in spreading Halloween spirit as well. Members took part in the annual Haunted Basement at the grade school's Trunk- or- Treat.  Student Council members transformed the eerie Academy basement into an even scarier haunted house for the lower school students.
"I love being in the Haunted Basement, especially because I went myself as a grade school student at the Academy," said Student Council member Sarah Shakespeare.
Halloween is clearly one of the most celebrated holidays at the Academy. In typical AHN fashion, plans for next year's festivities have likely already begun.