Yogurt shops invade Tampa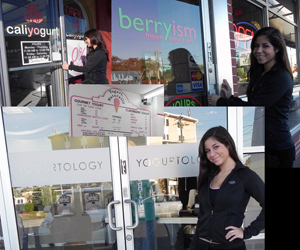 It's official. Yogurt shops have taken over South Tampa! What is this new craze everyone is obsessed with? Achona takes you behind the scenes of four of the most popular yogurt shops in the area. From a refreshing snack to an after dinner desert, there is a yogurt shop for everyone! Get a closer look at Caliyogurt, Yogurt Naturally, Berryism, and Yogurtology.  
Are you looking for a light and refreshing snack after your long and strenuous sports practice? Or craving something cold and delicious but not in the mood to eat ice cream loaded with calories? Then Caliyogurt is the place for you. Located on 2303 West Morrison Avenue in Tampa, Caliyogurt is a yogurt shop known for its all natural, non-fat yogurt.
Manager, Lacey Glenn, stated that after its establishment three years ago, Caliyogurt has become most popular recently with a crowd after school on weekdays, and between 8 pm to 10 pm on weekends. The favorite flavors consist of Taro or plain, with various fruit toppings. This soft-serve yogurt is perfect for granola and any other light snack you may wish to add.
South Tampa has many secrets that it has kept for years, such as our favorite, Yogurt Naturally. This ice cream and yogurt shop is located on 3906 S MacDill Ave, has been in business for the past twenty years. It focuses more on a desert aspect, rather than the healthy choice.
Manager, Jim Fidler, added that "everybody loves sprinkles and the cookie dough flavor is definitely a favorite" and that customers come from all ages to enjoy this popular snack. The creative flavors and toppings give you a variety of options.
 Berryism is a unique and chic yogurt shop that is slowly taking over Tampa. Only a few years ago, at the location of 701 South Dale Mabry, this healthy choice yogurt shop started a new trend. With all new locations popping up from Carrolwood, to the USF campus, this yogurt shop is definitely becoming popular among teens and young adults. 
Favorites of this all natural, fat free yogurt consist of original tart and strawberry toppings. Employee, Caroline Quinn, began working a few months ago and said the crowd comes in after dinner time around 9 pm. Gabby Babin, of Academy states, "Berryism is not only my favorite yogurt, but it's a cool place to hang out with friends".
 South Tampa's newest hotspot is Yogurtology. This exceedingly popular yogurt shop is located on 1202 South Church Street, with a different approach from the others in the area. Yogurtology is appealing because it is self-serve and the price is based on weight, which allows customers to have a larger variety of choices without it becoming too expensive.
 Favorites of this yogurt include oatmeal cookie, Oreo, with Reces or strawberry toppings. Established only two months ago, this yogurt shop is a hot spot after school on Fridays. Don't be surprised to see crowds of Academy girls pulling in after a long week of school.
Joe Twony, of Jesuit High school observed, "Yogurtology is a much larger variety of toppings and flavors so I can get whatever I want, even it its chocolate yogurt, with a brownie bottom, and gummy bears!" This yogurt shop is on the rise with its creative flavors and toppings.