Finding meaning from chaos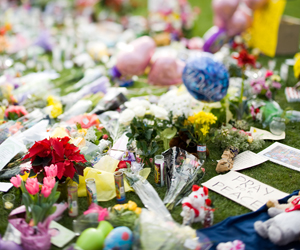 , Kansas City Star
January 13, 2011
Organized politics and vitriolic rhetoric didn't shoot U.S. Rep. Gabrielle Giffords on Saturday.
The responsibility for the horror that occurred at a Tucson, Ariz., shopping center belongs to the deranged person who pulled the trigger on the gun.
We may never know whether the toxic nature of politics today played a part in the incoherent Internet ramblings of Jared Lee Loughner, who's been charged in the shootings that left at least six people dead and seriously wounded Giffords along with 13 other innocent bystanders.
Loughner, 22, who had been suspended from his community college in September, expressed a mishmash of political views way beyond the mainstream in his YouTube videos and on his MySpace page. He wrote that "the government is implying mind control and brainwash on the people by controlling grammar" and talked about having mind-control powers.
Investigators who searched his home reportedly found an envelope with messages saying, "I planned ahead," "My assassination" and the name "Giffords."
The legal system now must deal with what responsibility Loughner must bear. The rest of us must grapple with our responsibility to prevent, if we can, inexplicable public acts of violence.
As of Monday afternoon, Giffords, a Democratic representative, was listed in critical but stable condition. Among the dead were U.S. District Judge John M. Roll; Gabe Zimmerman, one of the congresswoman's aides; and Christina Taylor Green, a 9-year-old born Sept. 11, 2001, who was at the event as a newly elected member of her school's student council.
The search for explanations has focused on whether the elevated level of acrimony in politics these days somehow contributed. In an attempt to cool down the atmosphere in Washington, Congress postponed this week's entire legislative agenda, including House Republicans' plan to vote Wednesday on repealing the healthcare reform law enacted in March.
The delay carries a certain symbolic comfort, considering that the repeal bill, in testimony to the acrimony in the nation's capital, is called the "Repeal the Job-Killing Health Care Law Act."
But the nation shouldn't postpone discussion about a fundamental truth: Speech has consequences.
Words matter when people try to persuade others. Political speech, whether from an elected official or commentator, is geared to elicit a response: Vote for me, support my cause, send me money, listen to my show.
That said, the use of hunting and killing metaphors in American language also is not new. From sports to business to politics, violence has functioned as a rhetorical device throughout history. No matter how harsh, words don't fire guns.
President Barack Obama's call for a moment of silence Monday to honor the victims of Saturday's shootings was a fitting pause that offered the quiet necessary for the collective soul of a nation to search for answers to the unanswerable.
But continued silence wouldn't be — and never has been — the appropriate response to the ugliness that can infect the public dialogue.
The counter to divisive and intemperate language is a call for civility. Not censorship, which is anathema to a democratic society, but more civilized debate. The counter for hate speech isn't a law; it's people ready to condemn speech that is deliberately crafted to mislead or malign.
The United States blossomed from the seeds of dissension. Vigorous debate is the heartbeat of our representative democracy. As a people, we pride ourselves on our ability to change political leadership through the ballot box and not through bloodshed, coups or violence.