Concern for others, faith, and passion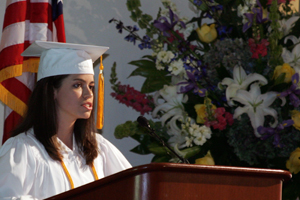 Good evening. I would like to welcome Bishop Lynch, Dr. Purpur, Mrs. Jowanna, Mr. Mularkey, faculty, staff, family, and friends to the graduation ceremony of the class of 2011. In all honesty, it is still difficult for me to believe that tonight we will officially become graduates of the Academy of the Holy Names.
 I can still vividly recall sitting in Mrs. Cowart's UCC class during freshman year, on the day of the seniors' graduation, as she described to us Academy's graduation ceremony. As a freshman, I had never heard the details about what truly distinguished an Academy graduation, and I remember being so fascinated by the rich and beautiful traditions of white gowns, red roses, and a united class of confident young women. Despite Mrs. Cowart's warnings of how this day would arrive for us before we knew it, the concept of graduation seemed so distant, even surreal, to me. Tonight, however, my classmates and I are finally living out those moments for ourselves; we are graduating.
I can honestly say that my experience at the Academy of the Holy Names has shaped me into the person I am today. During my time at the Academy, I cannot even tell you how many times I have heard girls attest to those same words. As I began to consider why the Academy has such a profound effect on all of its students, I realized that the answer lies not within the physical school itself, but within the people. All the members of this Academy family make this place not only our school, but also our home. As I look around at the many faces before me, I cannot help but feel an immense sense of gratitude for my past four years with my Academy family.
I would first like to thank both my own parents and also all of the parents who are here tonight.  I know that I can speak on behalf of my classmates when I say that you play a monumental role in the Academy family. We are so grateful to have been given the opportunity to attend this school, and we honestly could not have gotten through these past four years without your constant love and support.
Next, I would like to thank our teachers and all of the staff at the Academy of the Holy Names. I firmly believe that you are the ones who make this school outstanding. Not only have you given us an amazing education, but you have instilled in us values that we will carry with us for the rest of our lives. Sister Mary Glavin frequently told us in our Christian Lifestyles class that her voice will haunt us with her lessons forever, and, honestly Sister, I do not doubt that one bit. All of you have been there to help us when we don't understand a new concept, to comfort us when we are on the verge of mental breakdowns, and to celebrate our accomplishments with us. I know that so many of you have truly inspired me and my dreams for the future, and I know many of my classmates feel the same way. You are an integral part of this Academy family, and we cannot thank you enough.
Last, the sense of family at Academy radiates through my classmates, the class of 2011. It's truly remarkable to me how far we have come over these past four years. As freshmen, we walked into orientation timid, maybe even a little bit awkward, and everyone nervous about what the other girls would think of us if we broke out into one of the dances about baby sharks, little green frogs, or brown squirrels with bushy tails. Over the years, however, we have become very close with one another, and I will admit that I really am going to miss each and every one of you next year.
I have so many memories with you girls that I will never forget. I think our class bonding really started with our "Friday raves" in the locker room during sophomore year, which basically consisted of flashing light switches, cheering, dancing to oftentimes imaginary music, and always ending in an enthusiastic "Twenty Eleven" chant, complete with our famous sword. Those really were awesome. During junior year, our class only became stronger through more celebrations, such as our fabulous Cinco de Mayo fiesta, our Junior Ring ceremony, and, of course, more "Twenty Eleven" chanting with the sword.
Furthermore, our class demonstrated our ability to stand by one other even through difficult times as we dealt with the loss of our beloved Mrs. Schultz. I am confident that Mrs. Schultz is looking down on our class at this moment and is very proud of the young women we have become.
This year, our senior year, has truly been amazing. Our parties in the senior lounge, such as our luau day, Halloween party (complete with full-body ghost costumes), and our memorable birthday celebration for Sister Mary Glavin, definitely illuminated our class's sense of school spirit and love for the Academy. Random outbursts of singing, including our original hits such as the "Pants Song" and "She's Going Out Tonight," became normal occurrences during senior year. It always comforted me to see the constant support of my classmates for one another, amidst the stress of school and college decisions.  I loved how whenever one of us learned of a college acceptance or other accomplishment, a flood of congratulations and genuine happiness for the girl always followed.
I feel that one of the most defining aspects of an Academy graduate is her faith, and I definitely have noticed the deepening of faith within my class, especially during our senior year. I truly loved being able to have conversations about our faith, comfortably discussing our varying beliefs, whether in a religion class or at a retreat. I will miss enthusiastically singing and clapping to "Shout to the Lord" or "You are Holy" with all of my classmates at school masses.
Finally, I am so proud of our senior prank day, which we somehow pulled together in only an hour. That day was so much fun, and it truly exhibited the class of 2011's humor and creativity, yet also the respect for this school that we love. Out of all my years at Academy, senior year has been my definite favorite, for it was during this year that I realized how truly fortunate I am to have been able to go to school with these girls whom I now call my sisters.
All year in Sister Ann's Social Justice class, a simple paper hung on the wall. The paper read, "In this class sits the next Jean Donovan, Dorothy Day, Mahatma Ghandi, Caesar Chavez. In this class sits the next secretary, wife, journalist, film director, teacher, nurse, politician, philanthropist, supporter, church leader. In this class sits me." I remember seeing this paper every day in class, and it definitely made an impact on me. This sign stood as a constant reminder of my class's potential to truly change this world.
Although I cannot believe how fast time has flown by, and at times I have even wished that I could go back, I confidently believe that our class is ready to graduate. It is our duty now to take all of the values and lessons which we have learned from the Academy of the Holy Names and share them with the rest of the world. I agree completely with Sister Ann's message to us. When I look at my classmates, I see confident and intelligent young women with genuine concern for others, strong faith, and passion to make the world a better place. When I look at my classmates, I see hope for the future. Earlier I said that it is difficult for me to believe that we are almost Academy graduates.
In all honesty, however, I only say that because I do not want to say goodbye to this home and family that I love. I have always associated the word graduation with a celebration of the end, but as I began to think about it, I realized that could not have been further from the truth. The word 'graduation' itself comes from the Latin word meaning 'a step.' I now realize that this is not an end but merely a step into the next stage of our lives. Sure, we might travel along different roads in the future, but we will always remain united by the chapter of our journeys that we shared together at the Academy of the Holy Names. Now, let us graduate and take that next step of our lives, together as a class, the class of 2011.