Rick Santorum: No money, no problem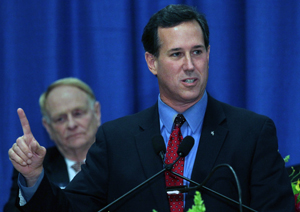 An objective financial analysis of Rick Santorum's prospects would most likely conclude that the Republican hopeful doesn't have a chance. The former Pennsylvannia senator has just recently started to peak in the polls, and he is downright impoverished in comparison to the other Republican candidates. Nevertheless, a subjective analysis would not underestimate the mystique created by Santorum's straightshooter, sweater vest appeal.
Mitt Romney and Newt Gingrich, the other viable candidates, have arsenals of cash when compared to Santorum. As a millionare several times over, Romney can draw on not only his personal cash hoard but the minor and substantial donations that come from having emerged as the frontrunner early on in the race. Gingrich, on the other hand, has the assistance of the Las Vegas billionaire Sheldon Adelson in lieu of a vast fortune. Santorum still lags behind in overall funds.
Despite his stuttering momentum, Santorum's campaign has received a new lease on life after his trifecta win in the Colorado, Minnesota, and Missouri primaries. Those states don't really amount to much in terms of delegates, but they do signify a massive coup in terms of winning over public opinion. Perhaps more importantly, it was that victory that marked a watershed moment in the perceptions of wealthy conservatives, who are now shelling out the cash for super pacs on behalf of a candidate they now think can win.
Then, there is the allure of Santorum's no-nonsense Conservatism. Many deeply conservative Republicans have long held doubts as to the sincerity of Romney's beliefs on controversial issues like abortion and homosexuality. Political analysts believe that they have been voting for Romney because they viewed him as the only candidate with a chance of beating President Obama. Hence, the endless parade of candidates billing themselves at the anti-Romneys. From Bachman to Cain and from Cain to Gingrich, Santorum has been the latest manifestation of the not-Romney.
Santorum, however, has appealed to voters on his own merit and not merely by not being someone else. He has remained consistent throughout his life on core Conservative values, and he has some legitimate, bona fide proposals for improving the economy in areas like manufacturing. To be frank, he is also comfortable speaking in front of crowds, a skill Romney has yet to convey in this primary season. Then, there's his sweater vest. Santorum's wholesome, Mr. Rogers look is one of several ways that he exudes his pious, average Joe persona. Romney, in contrast, has never truly shed his background of notorious wealth in the minds of voters.
In keeping with his low-key persona, Santorum's campaign seems to be sticking with a slow-and-steady-wins-the-race approach. Instead of focusing on the states that are oozing in delegates, he is focusing on succeeding in so many of the small ones that he racks up a sufficient number of delegates.
Although Santorum's political prognosis is still strong,  he failed to make a big splash against Romney in yesterday's Republican debate in Arizona. That being said, a victory in a big state like Michigan could still change everything. Romney's lead over Santorum is within the margin of error, which can only lead to the conclusion that all bets are off.