Taiko drums and guest speaker seminars kick off Mini Course Week 2012
Mini Course Week 2012 opened with an engaging Japanese drum performance from Tampa Taiko. Ron Collins and Julius Mendoza performed a dramatic first song before discussing the history of Taiko drums and demonstrating how to play basic notes.
Shortly after, Collins called up teacher Mrs. Dana Nazaretian, Coordinator of Mini-Course Week, and seniors Leigh Anne Russell and Amanda McWilliams to show off their newly acquired knowledge of Taiko drum playing. Also, English teachers Mrs. Linda Nutter and Mrs. Elizabeth Sawyer entertained the crowd with their drum playing skills.
For the second half of the day, girls explored different cultures and careers in seminars with guest speakers. The seminar topics included Journalism, Chinese Language & Culture, College Life, Interior Design, Legal Talk, Life Lessons with Trang, Medicine Women, Nursing, Nutrition, Political Life, Women's Health Issues, and 30-Minute Meals. Collins and Mendoza stayed with a group of students, who enjoyed taking turns with the Taiko drums.
About the Writer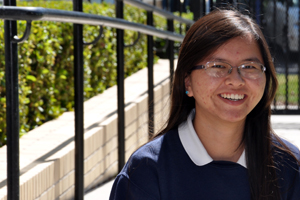 Li Stalder, Co-Editor


Li Stalder was a 2012-2013 Co-Editor of Achona. She actively supported Academy's JCL (a.k.a. Latin) Club and served as one of the club's "triumvirate"...