Tuesday mini-courses focused on leisure and life skills
Tuesday mini-courses offered an array of opportunities ranging from Bollywood dancing to cake decorating.
Girls showed their talent in Bollywood dancing, ice skating, kickboxing, and yoga courses. In the Bollywood course, Ms. Jyothi Venkatachalam taught different Indian dance styles: the Bhangara, Raas Garba, and Kummi. Others traveled to Yogani Studios to learn new techniques that focus on breathing and relaxation, much needed after a busy third quarter.
Other off-campus trips included traveling to the Columbia Restaurant, the Tampa Courthouse, and Color Me Mine. Students experienced a behind-the-scenes tour of the historic restaurant. Others visited courtrooms and witnessed actual trials. At Color Me Mine, girls could paint and decorate pottery pieces of their choice.
Cake decorating, Flower Power, and Romeo and Juliet courses kept the girls engaged back at Academy. Flower Power enlightened students with the art of flower arranging. Girls enjoyed watching the classic tale, Romeo and Juliet.
About the Writer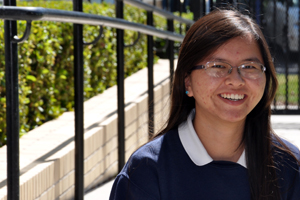 Li Stalder, Co-Editor


Li Stalder was a 2012-2013 Co-Editor of Achona. She actively supported Academy's JCL (a.k.a. Latin) Club and served as one of the club's "triumvirate"...