Local proms have unique traditions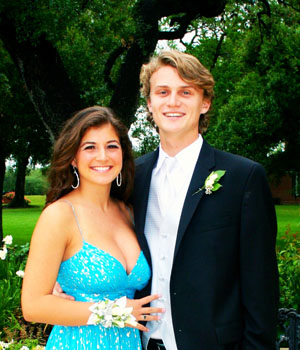 One prom, two proms, three proms? How many are you attending? This exclusive event for juniors and seniors is something students universally look forward to across the country. Prom night is a special evening for girls to be treated like a princess escorted by an exceptional "Prince Charming" promising memories that will last a lifetime.
Several upperclass women from Academy have had the opportunity to attend more than one prom. Girls able to experience the diversity of different high schools in the area say that it's exciting and in some cases eye opening to be a guest of another school for their gala event of the year.
Junior Tori Litschgi attended Jesuit High School's prom with much anticipation. "It's exciting to meet different people you normally wouldn't have the chance to meet without branching out at these events. I went with a fun date and we danced the night away."
At the brother school to Academy, Jesuit High School, guys are always in a frantic search for dates and turn most frequently to AHN girls. Unique characteristics to their prom include the silent collective agreement that short dresses are worn and the destination will be a fun night atop the Bank of America building downtown.
Branching out even further, senior Mary Patterson attended Tampa Catholic's prom this year.  "The evening was carefree and all around enjoyable. I noticed that the dresses of girls were very colorful and blingy. To be honest, I probably had one of the simplest dresses there."
Perhaps one of the most unique proms was King High School's Prom at Mainsail Hall on April 28. Senior Sophia Baldor attended this event in a long blue gown, as long dresses are preferred for their prom. "It was my first ever public high school dance so I was able to see a bunch of different people. I enjoyed watching the traditional Senior Notables. Students received awards such as Mr. Outgoing, The Next Bill Gates, and Miss Attractive. It was a lot of fun!"
No matter which prom you attend, the magical night you can have remains constant. After all, these are the best years of your life!