Looking back at 2012: Achona Fashion Staff selects 'Best Prom Dresses'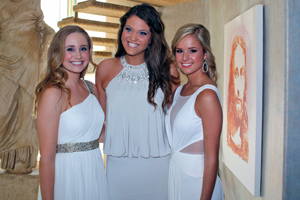 Althought the lights have faded, seniors have graduated and juniors have traded gowns for exam-mode casual,  this year's prom was certainly a fashion night to remember all summer long.
Here are just a few of our favorite looks:
1. Olivia Jones looked flawless in her royal blue gown adorned with embellishment at her waist.  She truly proved that prom dresses can be both classy and fun.
2. Sarah Henni,  wearing a gorgeous blue-and-black dress, was a true show stopper.  The dress paired the two colors beautifully.  We especially love the bejeweled neckline that polished the entire look.
3. Allison Babin , who was crowned prom queen, looked dazzling in her white gown.  Allison's gorgeous statement necklace was an excellent addition to the dress.  Others rocked the same look, but in different hues – senior Cristina Gomez modeled it in purple, while senior Christine Holcomb and junior Meagan Gonzalez looked stunning in orange.
4. Rachel Eilers embodied perfection in her deep purple prom dress.  The sweetheart neckline and cinched waist made the dress pop on the dance floor.
5.  What was not to love about Emily Joseph's lovely white gown?  We love how clean and simple the dress is, and the side cutouts make the dress fun and flirty.  Emily's girly updo and gold chandelier earrings added to the sophisticated, but modern, look.
6. Grace Spurgin looked absolutely immaculate in her Grecian-inspired white dress.  The one-shouldered dress with gold detail  was a favorite among prom goers.  Both Grace and her dress sparkled all night long.
7. We cannot express how much we loved Amanda Schifino's dress.  The splendid hue of this bright pink gown was matched by no other.  Amanda worked one of this season's biggest trends effortlessly.
8. Lillian Giunta was drop-dead gorgeous in her white BCBG gown.  The sleek and elegant dress featured exquisite cutouts.  Lillian's soft waves, coupled with her gold accessories,  made for a classic look.
9. Cailin Dunne's combination of tan and aqua made her a standout at prom. Cailin matched her earrings flawlessly with the blue embellishment on her dress.  The gown paired classy with fabulous for an overall stunning number.
10. All Academy ladies and their dates receive applause for looking picture-perfect in their Prom suits and dresses.