Stylish iPad cases set trend at Academy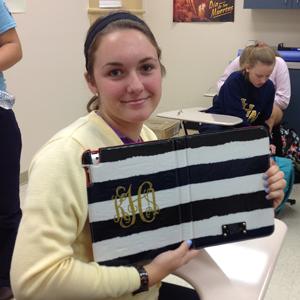 If you take a good look around the AHN campus, you will find an array of stylish iPad cases. Students are required to have a case on their iPad to protect and prevent it from damage. Without an appropriate case, students could not take their iPads home after the iPad orientation. If you are an Academy girl, you know that the required iPad cases give you one more way to express your individuality.
When asked where she purchased her case, Annie Polo said "kt janes", a well-known chic boutique on Dale Mabry. There, Allie Mangan, Katherine Hobson, and Chloe Schaefer also purchased monogrammed stickers for the back of their cases.
Hobson jokingly added,  "I felt that monogramming added my own personal touch." Katherine had a Kate Spade striped case, purchased online, and went the extra mile with her added initials.
Caitlin Herlihy's red and white case with  a built-in keyboard has only one drawback. "The keyboard comes out and it makes me mad." Although she selected it for the keyboard, it was not all that it was said to be online, which often is the case with online shopping. For an overall rating, Herlihy said that she would "give it a 7."
Many girls chose their iPad case for style, but Annie Polo, a bargain shopper, said she chose hers for price as well, snagging her case for $23 at kt janes. Monogramming may have stolen this fall's spotlight for "biggest trend" in  iPad cases, or at least around the Academy campus.