Beach Christmas, Canine Edition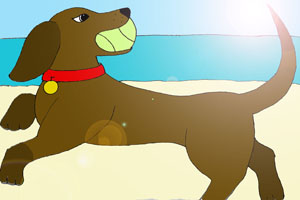 I trot on the beach, feeling sand between my paws and smelling the ocean salt water breezing past me.
My human has brought me on to the beach to play catch with a round circular bouncy thing. She throws it towards the cold salt water.  I run after it splashing into the water, making my coat drenched with ocean water.
With the rough gooey round ball in my mouth,  I run as fast as my little dachshund legs can take me back to my human. I run past her to a little soft place in the sand and start digging, trying to bury this ball of joy.  She notices, laughing and grabbing the ball before I can bury it completely.
She runs up the steps to our cozy home and drops the ball beside the garland-decorated fireplace.
She mumbles something about cleaning, cooking, and family. She seems  to be frenetically moving around the kitchen, stirring pots and pans  and slicing things that I can smell if my put my nose way up in the air.  Apparently humans call these wonderful aromas  "Christmas."
I love this holiday because of these smells and the happy people who come to visit us.  But best of all, I receive free scraps of human food. I think they call these scraps pork, chicken, turkey, mac and cheese, and ham. Slurrrrp! Wooffff!  A Merry Furry Christmas to you and yours!