Should naturalized citizens be allowed to run for President?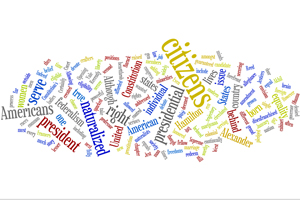 On January 21, Americans witnessed Barack Obama take his presidential oath for the second time. As the most powerful man in the United States, it is Presdient Obama's job to secure the rights in a country where "All men are created equal." This phrase, the common belief of all Americans, has grown to include the disenfranchised: women, and those of different races.
However, those born outside of The United States to foreign parents, who choose to fully devote their lives to American ideals are often times treated as lesser citizens. Although they are allowed to serve in various cabinet positions, as Supreme Court Justices, and as governors – they are not able to serve as president.
Recently, this has sparked much debate amongst citizens and academics. Yale law professor Akhil Reed Amar states "Opening the door of presidential eligibility to naturalized Americans will redeem the Constitution's grand trajectory, adding a new chapter true to the spirit of the story thus far."
Indeed, the Framers of the Constitution did envision a nation with guaranteed individual freedoms and equality. Even the brain behind the Federalists, colonial heartthrob Alexander Hamilton was eligible to serve as president even though he was born and raised in the West Indies. Alexander Hamilton, one of the crafters behind our beloved and honored Constitution, wanted this right for his fellow citizens.
Yet, modern-day naturalists are denied this very same right. Certainly an individual who is deemed worthy of serving as a governor in every single one of states should be considered a serious candidate for presidential office. Just as the amendment process and federalism included women and minorities as equals, naturalized citizens should be afforded the same right to offer what they can to the country they have pledged their full allegiance and lives to.
Although this issue is not as widely circulated as other federalism issues including gun control, marijuana, prostitution, and gay marriage, it should still be in the forefront of the minds of a society that continually stresses the importance of liberty and equality. In order for this issue to be resolved, it must be seriously addressed by citizens and congress members. Allowing naturalized citizens to run for president is the next step in securing the true American dream.