Keratin promises amazing effects to your hair!
Do you have frizzy, curly or wavy hair?  If you just answered yes, then a keratin treatment might be beneficial to you.
Keratin is a protein already existent in your hair, but the treatment adds more of the protein to your hair for a softer, straighter, and less frizzy appearance.  A keratin treatment cuts down drying time, allows for a much easier flat ironing process, and restores your hair's natural glossy and healthy look.
If you decide to get this treatment, make sure you do your research! Many keratin treatments, especially the Brazilian Keratin treatment, contain the harmful chemical formaldehyde, which has many damaging effects to health.  This harmful chemical mostly damages the health of the worker that applies the treatment, rather than the client, but it still links to cancer and some negative short term effects for both the client and the applicator.  However, the keratin treatment by Aveda is one of the only treatments FDA approved and without  formaldehyde, which makes it safe to apply.
The treatment takes two-and-a-half to three hours.  The salon worker first washes your hair and then applies the protein straight onto your wet hair.  You must sit for thirty minutes to allow the chemical to settle before blowdrying and flat ironing.  The flat ironing seals the chemical into your hair, but you cannot wash your hair for 72 hours.  The protein takes time to take effect.
During these three days without washing your hair, you must keep your hair flat and without a bend.  No bends means that your hair must stay down, without any hair accessories, and you must restrain from pulling pieces behind your ears.
After the treatment, you cannot wash your hair with shampoo that contains sodium-chloride, which can undo the effects.  It is best to stay away from any product containing sodium, but sodium-chloride is the definite no.  If you upkeep your hair and follow the rules, the treatment should last about three months. The treatment is not damaging to your hair and safe for all hair types.  The treatments usually range from $200-$300.
Senior Lillian Giunta tried the treatment for the first time at the beginning of the school year and loved the effects.  "It was so much easier and faster to get ready because my hair was much straighter and smoother.  I am looking forward to treating my hair again and I definitely recommend it."
About the Writer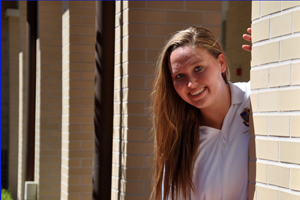 Tori Litschgi, Co-Editor


Tori Litschgi is one of the Co-Editors of Achona. She is also president of Golden Girls, the school spirit club, and vice president of the Senior...