Mini-course visit to Flagler College blends history with academic excellence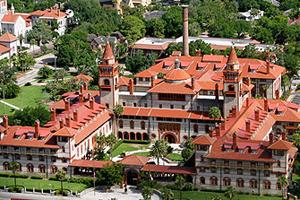 Spanish colonial revival architecture, dedication to learning, and a rich historic past make Flagler College a unique choice for students looking at small colleges in Florida.
All of these descriptions fit the campus of Flagler College, which sits like a fortress within the downtown area of St Augustine.  A visit to this small city is like a walk into the past.  Its rich history includes stories of the first settlers of Hispanic descent. Little alleys and streets lined by small shops and family restaurants help breed the homey aspect of St. Augustine's culture, giving the area a warm and welcoming feeling.
Horse-drawn carriages line the streets, ready to provide tours of this beautifully landscaped environment,  inspiring the artist in every visitor with the daily sights of this little town. There is history everywhere you look, including what was once the  Ponce De Leon Hotel, opened in 1888, but which now serves as the residence of the women of the Flagler college. Many esteemed figures have worked or stayed at the Ponce De Leon. For example,  Frank Thompson, a pioneer civil rights advocate and organizer of the professional baseball team the Cuban Giants, was once the headwaiter.
Other iconic guests of the hotel include Mark Twain, Theodore Roosevelt, and Babe Ruth. The electricity within the building was supplied by Thomas Edison and has been updated to include electric devices such as mini-fridges and microwaves in the spacious rooms that now serve as dormitories.
In addition to a rich history and impressive architecture,  Flagler hosts a liberal arts education that offers top-notch classes. Flagler emphasizes its service to students.  The school provides spacious housing, quality education, and healthy learning environments.   The small student-teacher ratio and multiple programs are keyed towards each student's individual success.  For students looking for a small college dedicated to success and development of its students, Flagler is an outstanding college to consider.