Educating women makes a difference to people in LaVictoria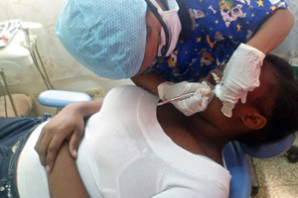 During my mission trip, I had the privilege of meeting one of the most promising and influential women, Dr. Vanessa, a practicing dentist in the Dominican Republic. Before you can understand why Vanessa is so special, you have to understand her circumstances.
In La Victoria, there is a different culture towards women. In this culture, women are meant to be subservient to men and fulfill only domestic duties. This attitude explains why a female dentist is so unheard of. Despite the culture and through the generosity of Nativity, Vanessa had the opportunity to attend dental school. Currently, Vanessa practices at a clinic near the proximity of the Schoenstatt Sanctuary, where we stay. During a tour of the clinic, Vanessa asked if a few girls would want to come observe her perform dental surgery. Academy alumni Bianca Lopez-Isa, Amanda Vales and I happily accepted her offer.
The next morning, Vanessa showed us her office, proudly explaining all the tools and equipment. We then met the patient and watched as Vanessa prepped for an extraction. Throughout the check-up and surgery, Bianca helped hold tools for Vanessa, aiding her when needed.  It was obvious that Bianca was totally in her element. "I felt the experience at the dental clinic was both surreal and intriguing.  I now know that a career in dentistry is for me. I can't wait until I am able to come to La Victoria and do dental work."
The story of Dr. Vanessa just shows the dedication of alumni and students to the Seeds of Hope program in La Victoria. I know that the three of us, plus many others cannot wait to continue to serve the community of La Victoria, physically, mentally, spiritually, and hopefully in the future medically.