FSU's Preview Day narrows down college list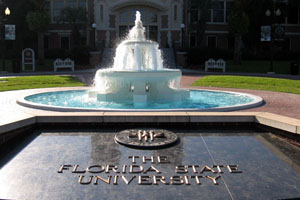 To help me make a decision on choosing a college, I attended one of several FSU's Preview days for admitted students of the Class of 2017 on March 22.
Early Friday morning, my brother, a recent Florida State alum, and I arrived at Doak Campbell Stadium. After a quick shuttle ride, we arrived at the Oglesby Student Union for check-in and a welcome session. From that point on, students split up and headed out on their own to attend various information sessions, tours, and appointments with faculty.
Our first stop was sign-up for a tour. Because I am majoring in business, we chose a tour that covered the east side of campus, where the business buildings are located. Our tour lasted about an hour, as we visited the Business school and other buildings, including the Suwanee Dining Hall, Strozier Library, and strolled across Landis Green.
After our tour finished, the residence halls opened for tours. We were given a tour by a freshman girl who lives in Landis Hall. Landis Hall offers amenities such as a hall laundry room, a game room, study rooms, floor kitchens, and a hallway connecting to Gilchrist Hall and a dining hall.
Following our visit to Landis Hall, we attended information sessions about the Honors Program and the Business school. These sessions provided information about housing, scholarship and fellowship opportunities and the various programs in the Business school.
The Florida State preview experience provides a vast amount of information regarding the university because only admitted students attend. By focusing on information which students making college decisions need to hear, Florida State's preview provides an excellent program.