Mini-Course Week trip to Lynn University provides glimpse of student life on campus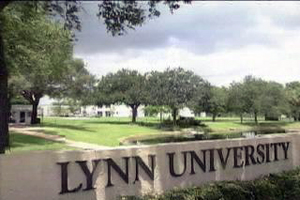 Mini-Course Week meant travel time for many Academy students, and I was no exception when I ventured out to visit Lynn University in Boca Raton, Florida.  This university gained notice when it hosted one of the 2012 presidential debates.
Lynn University is home to students from 47 states and 80 nations, making the campus diverse in culture. This private university is small enough to get to classes and other school related events without too much trouble.
Classrooms are not large lecture halls or cavernous auditoriums crammed with students.  The 18:1 student/faculty ratio provides students the opportunity for personal discussion-based classes and a personal student/teacher relationship that is harder to find in larger universities.
Professors at Lynn University are accessible to students for extra help.  The overall campus ambiance is like a big family.  You will know other people when walking through the quad, and your teachers will call you by your name.
The dorms at Lynn University offer two options for freshmen.  The first option is the basic dorm room that includes one roommate and a community bathroom. Believe it or not, the bathrooms were impeccably clean. Unlike most college dorms, the room was spacious and is cleaned daily.
The second option is a bigger room that comes with private bathroom, two walk-in closets and an additional roommate, who share the larger closet with one of the two other roommates.
A gym on the lower level of the dorms is open 24/7, along with study rooms, community rooms, TV lounges, a game room with pool and ping pong tables and a laundry room on each floor.
Lynn's cafeteria is not the typical cafeteria with scary lunch ladies and food. The meals at Lynn are seriously so GOOD! There are many different food options such as a salad station, the grill, wrap stations, soup stations, pizza and Italian stations, sushi bar, and so many more. If you don't feel like eating in the cafeteria,  you can go to one of the on campus restraints that are also nice and not overpriced.
The university provides transportation to night life and to places you want to go every day such as Publix, the mall, and the beach. If it is a nice day and you do not feel like sitting on the bus or taking your own car,  you can rent a bike. Many students bring their own bikes with them to Lynn because it saves money on gas, prevents the freshman 15-pound weight gain, and avoids traffic.
If you decide to stay on campus on days off from class, you can go to the pool, the gym, tennis courts, or even play beach volleyball. Boca Raton is a beautiful city and has one of the world most gorgeous beaches. The night life in Boca is a lot of fun especially with Miami and Palm Beach only 20 minutes away from campus.
My overall experience at Lynn University was reassuring to my college decision. I plan to major in Event Management and minor in Communications and Broadcasting on the the 3.0 program, which allows me to graduate with my BA in three years and my Masters in one year.