St. Mary's College offers Notre Dame environment with advantages of Academy lifestyle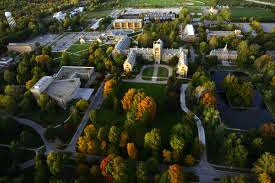 Choosing the right school can be a daunting task.  However,  a college visit can help sort out which school fits you.  It can also be an enlightening experience.
My mother is an alumna of Saint Mary's College in South Bend, Indiana, and my father is an alum of  Notre Dame, which is right across the street.  So it was no surprise that they wanted me to attend one of these schools.
After considering which school to visit, I decided to tour St.Mary's.  Before my visit to Saint Mary's I was less than excited. After attending an all girl's high school, going to an all-women's college seemed redundant.  I wanted the "traditional college experience," and to me "traditional" meant co-ed.
Saint Mary's campus is within walking distance of its sibling school, Notre Dame, and has access to student-priced tickets for all football games at Notre Dame.  Saint Mary's girls receive almost all the privileges and opportunities as Notre Dame students do, and since the schools are so close, they all attend the same  parties.  Some classes offered at Notre Dame are even offered for Saint Mary's students to attend if the classes fits their majors.
One of the schools most outstanding programs is nursing.  I sat in on a clinical and was amazed at how challenging, yet enjoyable this major is.  A student described it as "definitely the hardest, but most rewarding major the school offers."
The interaction between St. Mary's and Notre Dame  reminded me of the relationship between Jesuit and Academy.  Students at St. Mary's go to class with all girls so you they don't have to worry about appearance or embarrassment, but you still receive the traditional college experience.  The school is in a beautiful location in Indiana, and the teachers do a great job making their students feel at home.  I would highly recommend this school to any girl who has enjoyed the Jesuit/Academy experience and would like to experience the Saint Mary's/Notre Dame relationship.