Academy Golf team is swingin' into districts
The Academy of the Holy Names won another golf match on Tuesday, October 1st against Cambridge Christian School. In an almost close call match, they won making this season record with 5 wins and 1 loss to Steinbrenner High School. The team beat Cambridge Christian School 170 to 188.With another win under their belts, plus the win of the Mustang Invitational (won by Emmy Martin for the third straight year), the AHN Varsity Golf team is working hard to get to the district tournament and win once again. Districts is not the same as a normal match. Instead of 9 holes, the players will take on the big 18 holes.
There are only a few matches left against Berkeley Preparatory School at The Eagles Golf Course in Odessa, and Cambridge Christian School at Emerald Greens. Soon after those matches, the team will be heading off to districts and facing off with some of the best golfers in Tampa. One thing that helps them cope with the pre-game jitters is knowing they have each other to lean on. In and out of school and on the course, the Academy sisterhood is a huge part of the team. When someone needs help, weather its a ride to practice or trouble with boys, they have each others "bags". Believe it or not, everything wasn't at all easy for the team though. The team went up against really good teams and put all they had into their matches and the outcome was the same, victory. Sophomore Jade Muerer has high hopes for the team, "We have amazing players and we are looking forward to districts and the competition. There are other amazing teams out there but I'm looking forward to a big win for us. "
With the support of their team and the school, the AHN Varsity Golf team is ready for what is yet to come.
View Comments(1)
About the Contributor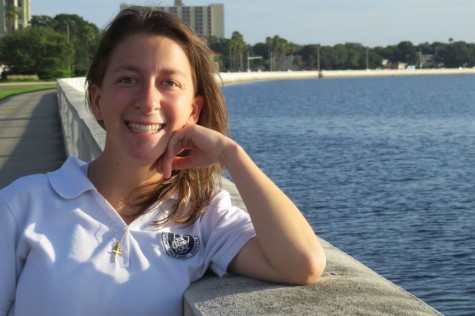 Jeanine Ramirez, News Editor
Jeanine Ramirez is an Academy senior, fourth-year journalist and the News Editor for the Achona. Following her interests in the social sciences, Jeanine...