The 2014 Fall Jesuit play: You Can't Take It With You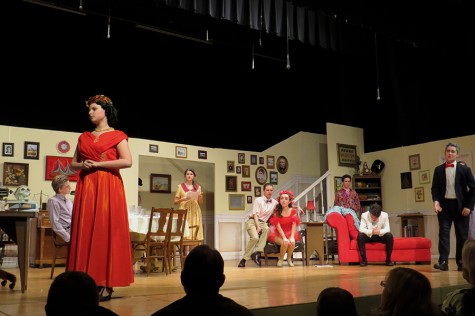 November 14 and 15 marked the opening and closing of the Jesuit play, You Can't Take It With You. This romantic comedy, written by George S. Kaufman and Moss Hart in 1936, is performed by Jesuit Masque, joined by several members from the AHN Theatre Department. Senior president of the AHN Thespian Troupe, Lexi Nieto, takes the lead role as Alice, the only normal member of her odd family.
Alice falls in love with Tony, played by Christian Peña, the son of a wealthy corporate business owner. Their love is tested after a comedy of errors follows their engagement, set off by Alice's odd family. The entire play takes place in the living room of the Vanderhof's home, acting out a whole story using strategic props and sound effects. The setting, though it never changed, truly resembled the inside of a home, with doors and stairs seeming to lead to other rooms in which the characters passed through. Having never seen a play with such a layout, I was amazed at how well the story of each character was told, even without a set change. According to Nieto, this layout was "definitely easier; you don't really have to worry about huge set changes going wrong. Broken props are usually much easier to deal with than broken set pieces".
Opening night went off without a hitch, each of the scenes played out beautifully with a captivating story-line and memorable moments of laughter.