A Fashion Icon & Multimedia Inspiration: Is Kylie Jenner As Good Of A Role Model As People Say She Is?
Under the limelight ever since the age of nine, Kylie Jenner is an American model, socialite and reality television personality. Being the youngest of six, Jenner has often found herself being in the shadow of her older siblings, but not anymore. Kylie is known for her eccentric fashion statements, such as her hair, clothing and long matte nails. Recently, Jenner has found herself under the spotlight, but not necessarily in a positive way.
Kylie, now 17 and sister Kendall, 19, have co-hosted numerous red carpet events such as The Twilight Saga: Breaking Dawn Part — 1 and Glee: The 3D Concert Movie. In 2014, Time magazine nominated them as two of the most influential teens due to their ample influence over social media. However, could Kylie's recent actions be considered influential or disapproving?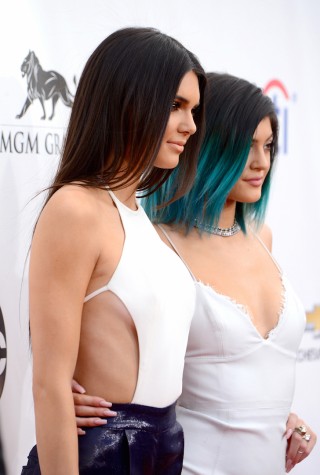 With millions of fans across the country, the public eye is constantly and meticulously following their every move. After a great deal of speculation, Kylie has recently stated that she received "temporary" lip fillers. In an interview with E Online, Jenner put the rumors to rest stating, "I have temporary lip fillers, it's just an insecurity of mine and it's what I wanted to do." Because of the extreme scrutiny she's always experiencing, Jenner further explained, "Everyone always picks us apart. I want to admit to the lips, but people are so quick to judge me on everything, so I might have tiptoed around the truth, but I didn't lie."
Along with her new lips, Kylie also has found herself in favor of her new relationship with rap artist, Tyga. Due to the drastic eight year age difference between the two, many argue that the relationship is illegal and inappropriate. Media sources have recently released that the two are "secretly engaged." According to Touch Magazine, "she wants to get married as soon as she turns 18 in August."
Are these latest incidents having a positive influence over the young teens of America? Though Kylie encourages girls to be themselves and not to be afraid to experiment with their personal look, cosmetic surgeries and statutory relationships are not sitting well with her fans. Regardless of the negative attention Kylie's received, she doesn't allow it to bring her down or affect the work she has achieved. The youngest Jenner may strive to appear and act older than she is, which influences young girls to possibly date older guys and alter themselves — to what they think — is socially acceptable.
Our culture requires young women in the entertainment industry to look "perfect" in all aspects. It is a revelation that places an extreme amount of stress on women all across the globe and promotes insecurity. This new disclosure affects young stars like Kylie Jenner, thus affecting the fans. Despite what some may say, Jenner still advocates for living true to yourself. "It's always the people that know the least about you that want to judge you the most." -Kylie Jenner