Lammily vs. Barbie: Who Will Win?
The Barbie Doll has always been scrutinized for its unorthodox promotion of an unrealistic idea of body image for young women and children. In real life, Barbie's dimensions would be roughly 36-18-33, with her diet presumably consisting of raw celery and the sporadic salad (no dressing, of course). Criticism involving Barbie is often fixated around children placing her on a pedestal, aspiring to be her, and attempting to emulate her. As the world around her may have revolutionized, Barbie remains fundamentally unchanged ever since her debut in 1959. In a world of extravagancy: a dream house, sports cars, and obtaining almost every profession possible, Barbie is permanently unattainable. Could this harsh critique evoke the creators of Barbie to alter her make-up, thus causing her to be more relatable to women across the globe?
Lammily made her first debut on November 19, 2014 and since then, has established an overwhelming fan base. The foundation of Lammily is built on staying true to yourself in a world that pressures young girls to conform to certain standards. Lamm comments, "I believe an entire world, with interactive resources, accessories, and clothes can be built to allow kids to find their own path." Lammily's instant popularity is an outcome of a concept that is largely driven by a concern for body image. "I myself have lived through my share of insecurities. Back in highschool, I starved myself and exercised to exhaustion to have a set six-pack abs" Lamm shares. What makes this doll so unique is not only does it represent a precept of allowing kids to discover their own path, but it also is a reflection of a time during Lamm's adolescent years. With the realization that Barbie is an unattainable fantasy, Lamm created something that was much more than the perfect hair and sports cars. Lammily is the NEW vision of Barbie.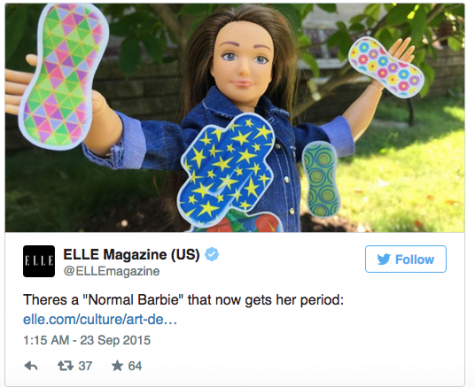 Nickolay Lamm proudly introduces the new "normal" Barbie that now gets her period AND a new hair color! Lamm tells TIME, "It's just what happens in real life." The new Lammily doll is known for her thicker waistline as well as her sticker-extension pack that includes optional pimples, cellulite, stretch marks, scars, moles, acne, freckles, and bruises. Lammily teaches girls that menstruation is a primary factor in the early stages of becoming a woman and is nothing to be scared about. According to TIME, "Lamm wants to start a conversation about periods and the stigmas that surround it….Which is why the kit comes with an educational pamphlet explaining what to expect from a menstrual cycle plus a pair of doll underwear, 19 colored pads, a calendar and stickers to track periods."
This new design and addition of the Lammily doll is exclusively constructed so that young girls feel more comfortable in their own skin, and even help make it easier for teens to better understand their own menstrual cycles. Could Barbie now be taking a new turn for the better? Lamm's intention on developing this doll was to create a "fun, appealing doll with natural-looking makeup and a casual, sporty wardrobe." From what we can see now, he did just that!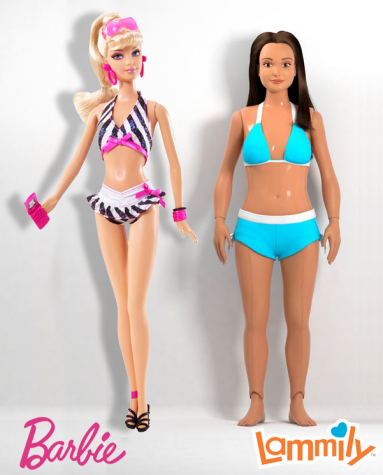 I believe that with the appropriate promotion, Lammily has the capability to surpass Barbie. When discussing the impact Barbie has made on girls across the globe as well as if Lammily would be an influential doll for their children (hypothetically) to have, Senior Gracie Hancock comments, "There is no instance I can think of when Barbie affected the way I saw myself, but yeah I'd definitely buy the Lammily doll for my child (hypothetically) because I think the doll could be a good way to teach young girls what to expect to happen to their bodies as they get older." Academy sister Sofia Varon adds, "Barbies had never affected the way I perceived myself when I was little. To me they were just pretty dolls and as I got older it was obvious that her proportions were unrealistic. I personally wouldn't buy the doll because this doll is selling the idea of what a "real" girl is actually supposed to look like and THAT can be harmful to young girls despite the fact that the doll has more realistic features. A barbie on the other hand is known by everyone to be unrealistic so I think many girls don't really expect to look like her."