Throwback Trends
Top trends of the past making a comeback into the modern spotlight
Many popular styles back in the 60s-90s have recently made a comeback into our modern outfits of choice. These throwback fashions can vary from a specific company to a general design. Freshman Megan DeVaney has her "own sense of style when I see something I like while shopping" but it is also common to be influenced by stars in the magazines, whether the picture was taken 30 years ago or just days ago.
Birkenstocks
Birkenstocks, a widely popular shoe in the 90s, has made a comeback within the last year. Many stores have rushed to carry them once again, because they sell out quicker than most articles of clothing. Junior Teresa Toranzo thinks Birkenstock's popularity comes because "they are versatile—you can dress them up with a cute dress, or dress them down with jeans and a tee." Birkenstocks, commonly known as Birks, are made in an array of styles, every one named after a different destination (country or city) based on the character of the shoe.
https://instagram.com/p/siGEW8BEkP/?taken-by=birkenstockusa
Dr. Martens
Also a loved style in the 90s, Dr. Martens have made a comeback thanks to stars like Cara Delevingne and Kristen Stewart. These boots come in every pattern or solid color and can be worn with a variety of outfits, from jeans to summer dresses. Originally founded in 1947, they appeared in the most well-know TV shows and were sold on some of the most famous shopping streets in the United States.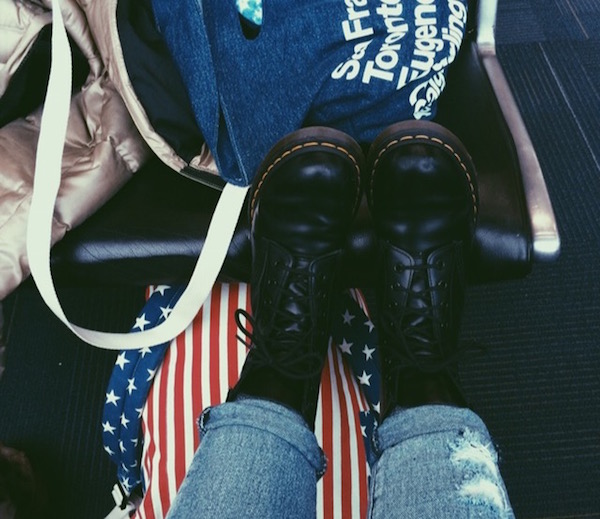 High-Waisted Swimwear
Throughout the 60s, high waisted bikinis were worn by girls of all ages. Recently, they have been revived and sold in most swimwear stores. This outfit is Taylor Swift's go-to swimwear, seen numerous times on her throughout this year.  It can be presented in many different patterns, or the high-waisted bottoms can be matched with numerous styles of tops. The high-waisted aspect of the swimwear mostly refers to the bottoms, but it is possible to link with a high-neck top as well.
Get ready to let high waisted bottoms infiltrate your swim wear pic.twitter.com/geNyQqR5i1

— StylingOn (@StylingOn) April 23, 2015
Denim Skirts
The 90s style staple of denim skirts are making a comeback onto our favorite store's racks. The possibilities for outfits with these skirts are endless, wearing them with a casual tee and flats or polishing things up with a button-front top and nude wedges. The skirt is a perfect combination of the well-loved denim shade put into a style that prevents overheating in this humid florida weather.
Fringe
Another widely popular style in the 60s and 70s, Fringe gives the outfit a more laid-back look while still seeming put-together. Mainly, fringe is used to add detail to simple items. Junior Teresa Toranzo thinks the "whole bohemian chic trend is in now, so fringe on a dress or a shirt can really amp up a look." It looks like hanging threads or strips often attached to several bands, length depending on the size of the top or skirt it is attached to. Senior Lindsay Boos loves wearing fringe outfits because they are "cute to wear with a solid cropped shirt and jean shorts but also works with gladiator sandals." The trend is also often associated with American Indian outfits in pictures, costumes, or drawings.
Flare Pants
Flare pants have somewhat taken over the simple popularity of skinny jeans. These pants have a larger amount of flare in the leg than bootcut jeans but less than bell bottoms. Flare pants have had numerous flashes of popularity within the 60s, 70s, and 90s, now coming back as a common outfit to wear to weekend concerts and beach or summer functions. Flare pants are another trend that can be styled up or thrown over a bathing suit at the beach.
Whether you favor the old-fashioned Birkenstocks or the modern outfits incorporating fringe, these throwback trends are used in modern outfits all around the world. Celebrities have brought back some styles, but others were restored in magazines or social media. Trends fluctuate frequently, meaning it is inevitable for styles to repeat. If there are some fashions from favorite old-movies that you would love to wear, wait a while and they may be coming back into the spotlight and on the racks.