How is AHN Affiliated with Jesuit?
For years Academy and Jesuit have coexisted in the same civilized society, working together as a brother/sister school, but our people have had years of debacle on just how we have maintained this order. What makes these two schools affiliated? The great people of these establishments will not stay silent any longer. Here is what they have to sa
Many schools around the Tampa area including Academy and Jesuit do not have a clear understanding of how the two schools are affiliated.
Academy girls do not attend Jesuit

— haven ◡̈ (@havengarcia) November 6, 2015
Jesuit's homecoming Queen #BeatJesuit pic.twitter.com/KbiyAsMzxE

— Wesley LeStrange (@wesleytbe) November 3, 2015
Some think they we have no right to support each other because we have no affiliation; however, this is false.  We consider ourselves  a Brother/Sister school. The schools are affiliated in the following ways:
The Jesuit cheerleaders are Academy girls
Jesuit and Academy Swim Team that practice and compete together
Coaches have been replaced for finals-GO JAGUARS! GO [email protected] @JesuitTampaFL @holynamestpa pic.twitter.com/8vtqoL0LeF

— Academy Aquatic Club (@AACswimteam) November 7, 2015
Both @JesuitTampaFL & @holynamestpa are here competing at the @FHSAA @pinchapennypool finals! #BHSNFINALS pic.twitter.com/8MzehThMeu

— Bright House Sports (@BHSN) November 7, 2015
Cross Country/ Track practice and compete together
Drama programs cooperate for performances and plays
Homecoming Court is made up of Academy girls
@wesleytbe Just in case you missed it 😉 pic.twitter.com/VavTgzdeoV

— Camille Yodzis (@Camille_Yodzis) November 3, 2015
@Camille_Yodzis hey das me

— Cerilla da Killa (@Cerillo_J) November 3, 2015
Key Club does events together
Robotics club is one club consisting of students from both schools working together
In doing the video about how the two schools are related, it can seem concerning that many Jesuit students have no idea what is going on at Academy, at least not as much as Academy girls know about Jesuit. Senior Taylor Shaw says, "I don't like how they expect us to do everything for them, but they don't do anything for us. They should support us just as much as we support them."
Jesuit student council President Sergio Farina says, "I think sports is a big part of our connection with Academy. I think a bigger presence of Jesuit guys at Academy events would only make sense for the amount support they give us. I know Blue Tide is very tightly knit to only support Jesuit, but Im sure the way the girls get involved in our Blue Tide, we could get involved in their student sections. Also I would supply for co-ed events, like perhaps a field day, where both schools could join together for a day filled with fun."
Vice President JJ Zambito adds, "I think Jesuit and Academy should have more events together. Like Jesuit's homecoming fun day would be awesome if we worked with Academy. Jesuit could and should show support back to them by going to more of Academy's big sports games. I thought it would be a cool idea if we had joint pep rallies too."
AHN President Jayne McLaughlin says, "It would be so awesome to have more combined Academy and Jesuit events because in past history, the two schools used to do so much together and by joining together we could create a huge community. Jesuit guys and Academy girls should be able to come together over more than just a sports event or a twitter fight, we should be able to unite under one common cause with ease."
About the Writer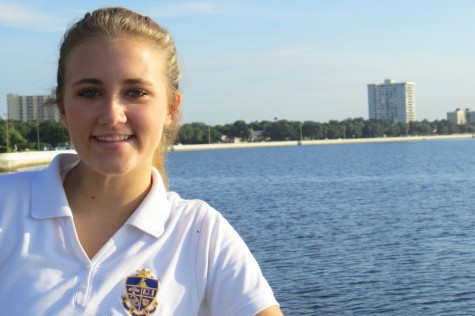 Avery Dierks, Senior Staff Writer
Avery Dierks is a Senior at AHN and Senior Staff Writer for Achona. Dierks loves music, dogs, food, singing, sleeping, and running. Calculus is her favorite...