Declarations of Love Gone Wrong
Love: an intense feeling of deep affection that can often be displayed in a myriad of unconventional ways. Not only does it signify an intense, affectionate attachment to another person, but it also is responsible for outrageous arrays of passion and sentiment. Achona member and Academy senior Karlee Nipper, shares her story with an unfortunate declaration of love that went wrong, in conclusion with seniors Veronica Sanchez and Zoe Bennett!
Karlee Nipper:
"So for Valentine's Day my boyfriend bought me these beautiful, expensive chocolates. When I opened them I held them up to take a picture with him in the background, and after I took it he reached to look at them again. But, when he did he offset the balance of the box on my hand and they flipped all over the floor and table. We picked up the ones that hadn't hit the floor and put them back in the box, but it was only about 6 of them. Victor felt SO bad but I mean mistakes happen and it was something we make jokes about now. At least I got a picture of how pretty they were and got to eat the ones that we saved because they were ridiculously good!"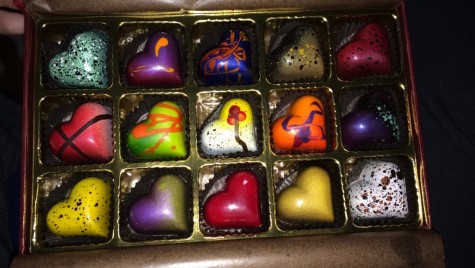 Veronica Sanchez:
"For our one year anniversary, I got my boyfriend shoes. Online they didn't have the type and color he wanted so I ordered a similar type of shoe that had one tiny detail of difference from the original pair he wanted. They came in and he told me he didn't like them so I returned them and ordered a new pair. This time they had the style in stock so I got them, but then ordered the wrong color. Again, I returned them and ordered them in the new color. When they arrived he tried them on and they were A HALF SIZE TO SMALL. So again, I have to go through the process of returning them and buying the same pair in a half size bigger. Still haven't done that yet and it's been 2 months since our one year."
Zoe Bennett:
"So my boyfriend and I were planning to go to dinner for Valentine's Day; we both had surprises for each other and were really excited to go to dinner. We called a restaurant on Thursday to make reservations but they were all booked until the following Monday. After that we decided to call another place the day before Valentine's Day and they were completely booked as well. Eventually, we gave up and decided to stay in and eat Chinese food and watch a movie. It ended up being just as nice as going to dinner so it all worked out in the end!"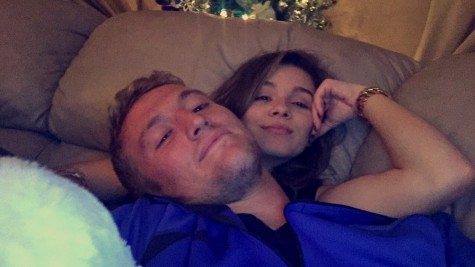 This year's season of love was filled with unforgettable moments that couples will reflect back on with laughter and adoration…Yes, that includes the chocolate failures and Nike Roshe dilemma. Be sure to remind your loved one how much they mean to you by flowering them with gifts and heartfelt cards! After all, love is in the air this month.