Sophomore Year in Perspective
Every high school grade level is known for its well-known schtick: Freshman are entering their first year of high school, Juniors have events such as Junior Ring and the SAT, Seniors are a priority in themselves, which leaves the Sophomore class with well, nothing. Otherwise known as the 'Sophomore slump', Sophomore year is said to be "the forgotten year", according to the perspective of Academy girls.
Sophomore Erica Dierks sates, "Being a sophomore kind of feels like being the middle child. The juniors and seniors are like your cool older siblings, the freshman are like your annoying younger siblings, and you're just there!"
With new honors-level classes offered, one AP course, and Chemistry in itself, the class of 2018 felt more challenged than ever before.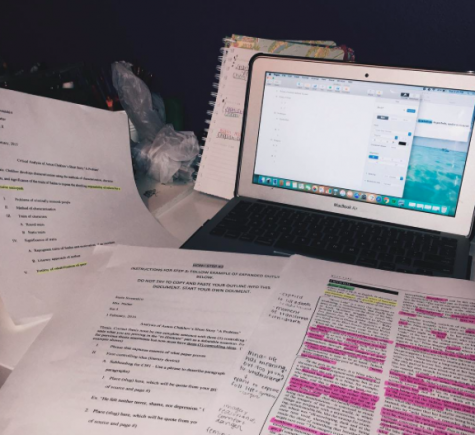 If the lessons learned Sophomore year could be summarized by the class of 2018, they would be:
You're no longer the the youngest
Though it goes without saying, becoming a Sophomore results in no longer being a newbie on campus. You finally learn exactly where everything is, the golden rule of knocking before entering the teachers' office, and to never, under any circumstances, walk into the senior lounge.
2.   Your grades really do matter 
From the second you enter Academy, the importance of making good grades is almost drilled in your head from parents, teachers, and especially Haiku. However, it doesn't exactly hit how important your grades are until it finally comes the time to meet with your college counselor sophomore year and discuss your future.
    4.    Don't Procrastinate!
Ask any upperclassman- procrastination gets your nowhere! It is important to follow the traditional advice Mrs. Z gives to all sophomores, "Think of your work as Salami. Say I give you a giant piece on Monday and tell you that you must finish by Friday, you must eat a few pieces of it every day in order to successfully finish it. If you wait until Friday morning to eat the whole thing, then you've got a problem. The same goes for your school work- if you take a little day by day, then by the end of the week you are golden!"
    5.    Cherish your time as an underclassman
Sophomore Jaed Seymour states, "This year I really wish I had taken more advantage of being an underclassman. I cannot believe that I will be a junior next year and I will always cherish the fun memories of my freshman and
sophomore year!"
Though Sophomore year may be known as the forgotten year, that does not mean it is less important than any other year at Academy. Use this time to cherish every moment with your fellow sophomore Academy sisters, because before you know it, it will be over!