The Long Awaited Comeback of Frank Ocean is Here
Guys, it happened. It really happened. Frank Ocean, singer-songwriter extraordinaire, has resurrected from his four year hibernation, and the result is mind-blowing. Since his first full length album, Channel Orange, was released in 2012, his fans' diligent patience has paid off.
His brand new project is a huge deal. Four years have passed, and aside from a few small singles and features, the Frank Ocean drought has been way too real for many to handle. No worries! If your Twitter feed hasn't already blown up, Ocean finally released his sophomore album, Blond, independently to Apple Music on Saturday, August 21.
The majority of the world's music lovers, especially Ocean's fans, are obsessing over the new tracks. Junior Lyric Vickers is in love with Blond.
The longtime Ocean fan explains, "I love everything about it. After hearing just the first song, I already knew I was going to love the entire album."
Because the anticipation for the new album had been building for almost four years, many were worried Ocean's comeback would not be worth the hype.
Junior Julia Lee had the same worry, but it quickly vanished once she began listening: "I had low expectations because I thought it would be overrated, but it has ended up being one of my favorite albums to date."
Freshman Maddie Moffitt has never heard of Ocean, although she admits she may check out Blond because it is such a popular project.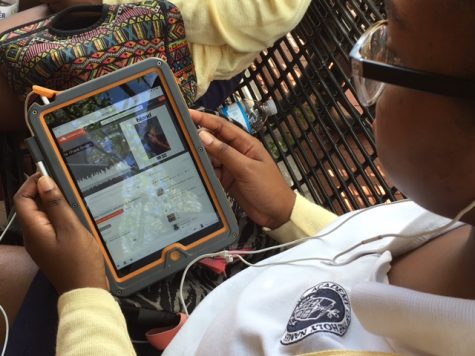 Before the album was delivered to the world, Ocean released Endless on August 19, two days before Blond. Endless is a separate visual album that can be found on Apple Music. The 18 song track list is presented in 45 minute black and white video of Ocean building a spiral staircase. Two songs on Endless were actually recorded near the famous Abbey Road. Ocean is a big Beatles fan, and the legendary band is credited on Blond, a symbol of their influence on the project. Ocean also thanks his fans for pushing him to finish the album on his tumblr.
Ocean's sophomore album is a huge deal not only because of its intense vocals and mesmerizing melodies, but because it has also ignited a war in the world of music streaming. Ocean was formerly signed to Def Jam records (with Universal Music Group as a parent label), but is now an independent artist on his own label, Boys Don't Cry. The concept of releasing music solely to a streaming service is not a new one. Ocean's close friends and collaborators, Kanye West and Beyonce, initially released their albums, The Life of Pablo and Lemonade, on only Tidal Music. After a while, most of this exclusive music is eventually available on more platforms, but this may be an issue for fans who like getting the first listen of new projects.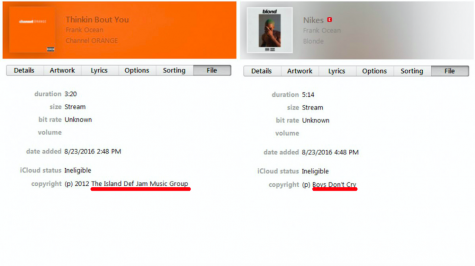 Although Blond is only officially available on only Apple Music, the Frank Ocean obsession can still be satisfied by finding versions on Youtube and Soundcloud.
Endless:
Device Control

At Your Best (You Are Love) (Isley Brothers cover)

Alabama

Mine

U-N-I-T-Y

Ambience 001: "In a Certain Way"

Commes Des Garcons

Ambience 002: "Honeybaby"

Wither

Hublots

In Here Somewhere

Slide on Me

Sideways

Florida

Deathwish (ASR)

Rushes

Rushes To

Higgs
Blond:
Nikes

Ivy

Pink + White (ft. Beyoncé)

Be Yourself

Solo

Skyline To (ft. Kendrick Lamar)

Self Control (ft. Austin Feinstein & Yung Lean)

Good Guy

Nights

Solo (Reprise) (ft. Andre 3000)

Pretty Sweet

Facebook Story (ft. SebastiAn)

Close To You

White Ferrari (ft. James Blake & Bon Iver)

Seigfried

Godspeed (ft. Kim Burrell)

Futura Free
About the Writer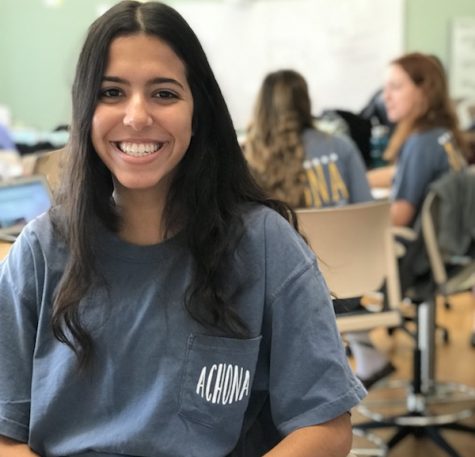 Alex Smith, Senior Staff Writer
Senior Alex Smith, a second-year Staff Writer, is excited to spend the school year writing for Achona. Alex looks forward to the various privileges senior...