Because Floridians cannot recognize the ending of summer based on the weather, they welcome the start of fall with the pumpkin-spiced latte. The rise in popularity of this drink has brought many people to celebrate fall earlier, with Dunkin' launching its menu on August 16th and Starbucks on August 24th. While some argue that it is too early to celebrate fall, many people flock to these stores, lured by spicy pumpkin bliss. Starbucks and Dunkin', classic coffee company rivals, each have their own rendition. So, the question remains: Which PSL is supreme?
i don't care how hot it is i'm going full fall girlie aesthetic whenever i order my pumpkin spice signature latte

— Dunkin' (@dunkindonuts) August 30, 2023
Starbucks and Dunkin' Pumpkin Spiced Latte's contain similar ingredients: espresso, milk, pumpkin syrup, spices like cinnamon and nutmeg, and sugar. The difference is really in the amount of each ingredient used, as well as the type of sugar. While Dunkin' uses high fructose syrup, Starbucks utilizes more natural options like cane sugar. Dunkin' uses whole milk for a richer flavor, while Starbucks uses skim milk.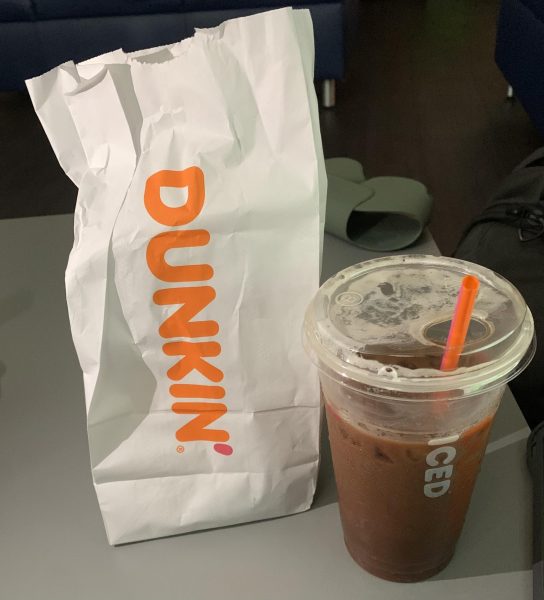 The primary difference people report between these two drinks is the amount of "spice"- those who prefer more milk, less sugar, and fewer spices opt for the Starbucks drink, while those who prefer the sweeter fall spices tend to prefer Dunkin's latte. Julia Artz ('24) states, "I prefer the Starbucks Pumpkin Spiced Latte because it has fewer toppings and tastes more natural than Dunkin's version". Isabella Fisher ('24), disagrees, saying "I love the Dunkin' Pumpkin Spiced Latte because I could taste the pumpkin spice, whereas in the Starbucks it was hard to taste the flavors because of all the milk".
Of course, if the Pumpkin Spiced Latte is not your preference, both stores have an abundant menu of fall items. Starbucks' menu hosts both pumpkin and apple flavors. Some returning items include the Pumpkin Cream Cold Brew and the Pumpkin Cream Cheese Muffin. Some new bestsellers are the Iced Pumpkin Cream Chai Tea Latte and Iced Apple Crisp Oatmilk Shaken Espresso. In addition to the Pumpkin Spiced Latte, Dunkin's menu advertises Nutty Pumpkin Coffee and Pumpkin Donuts – not to mention, pumpkin spiced Goldfish sponsored by Dunkin' Donuts.
View this post on Instagram
Personally, I prefer the Dunkin' Donuts Pumpkin Spiced Latte. I like that I can taste the coffee and the spices within the drink, while with the Starbucks version, I mostly tasted milk. However, I am not a huge fan of either. I usually prefer to taste my coffee more strongly, so my favorite way to enjoy fall beverages is with Starbucks' Pumpkin Cream Cold Brew.
Either version of this fall essential is sure to be enjoyed by all.