50 Year anniversary of President JFK's tragic death
To this day, John F. Kennedy is ranked among countless historians as one of the most loved presidents in American history; and fifty years ago today, the world lost him. The day was November 22, 1963. The President had actually been right here in Tampa just four days prior to meet with local government officials and visit with the people. Then that Friday, he traveled to Dallas, Texas.
The day was intended to be wonderful, with a large celebration for the President's welcome to Dallas. Little did anyone know the tragedy that would  be suffered on that fateful day. The President and First Lady (Jackie Kennedy) rode in a motorcade through a parade in Dealey Plaza. Then suddenly, shortly after noon, shots were fired at JFK and Texas Governor John Connally who was also riding in the motorcade. Kennedy was immediately rushed to a local hospital, however despite numerous efforts to keep him alive, was pronounced dead only a short hour later.
His body was removed from Texas and taken back to Washington by Air Force One with Jackie Kennedy and JFK's successor, Lyndon Johnson. An autopsy was performed and then the following Monday, the president was buried at Arlington National Cemetery.
President Johnson signed an executive order, creating a President's Commission lead by Supreme Court Chief Justice Earl Warren, which was later named the Warren Commission to solve the case. With the help of the FBI, CIA, secret service, State Department, a staff of lawyers, and other agencies, the Commission concluded that Lee Harvey Oswald was the lone assassin of President Kennedy. Ironically, Oswald was shot and killed by a local Texas man named Jack Ruby just two days after the assassination.
JFK was the nation's first Roman Catholic president. So, as Academy girls privileged to attend a Catholic school, keep JFK and the remaining Kennedy family in your thoughts and prayers on this difficult fiftieth anniversary.
Leave a Comment
About the Contributor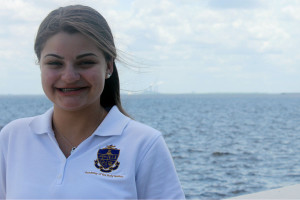 Cassidy Whitaker, Senior Staff Writer
Cassidy Whitaker is a staff writer for Achona. Her interests include current events and writing. In her spare time, she enjoys playing with her corgi and...