Smart Girls: Challenging Girls to "Change the World by Being Yourself"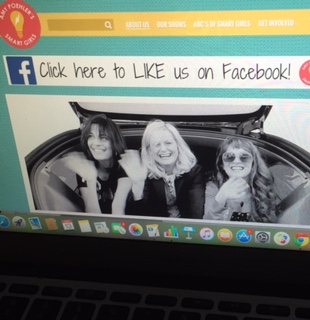 When you hear the name Amy Poehler, you usually think of her flamboyant and outgoing character Leslie Knope from NBC's Parks and Recreations, but have you ever thought of smart girls?
The Smart Girls Organization was founded by Amy Poehler and Meredith Walker with the purpose to inspire girls to be their best selves. Smart Girls began as a series of Youtube videos that soon led to a web series called Smart Girls at the Party. On the Smart Girls website are various videos featuring young girls and a variety of pressing social issues. In regards to the objectives of the organization, the About Us page states that, "We emphasize intelligence and imagination over "fitting in." We celebrate curiosity over gossip. We are a place where people can truly be their weird and wonderful selves. We are funny first, and informative second, hosting the party you want to attend." 
Just part of our incredible set! Shoutout to the hardworking crew + everyone who stayed late to make something rad ? pic.twitter.com/30c8NoiO8v

— AmyPoehlerSmartGirls (@smrtgrls) June 1, 2015
Senior Rosa Mauer shared how she feels about Amy Poehler's Smart Girls. "I think that's great and it empowers girls our age to succeed and better express themselves." Some of the serious issues that the website covers are bullying, human trafficking, the Syrian refugee crisis, and more. Along with the videos, The ABC's of Smart Girls informs girls how to handle topics ranging from Embarrassment to Friendship and even Heartbreaks.   The shows featured on the site include:   Ask Amy Ask Amy features the one and only Amy Poehler answering questions sent in by teenage girls. Her videos take place just about anywhere, in a car or in different rooms in a house, and she records them as she is; in workout or work clothes, with or without makeup. Many on the featured topics are some that just about any Academy girl can relate to such as exams, sleep, anxiety, and sisters.
Book Report
Book Report is exactly what it sounds like. It is a series of book reviews except it has a comedic twist. Books discussed include AHN favorites like Harry Potter, the Divergent Series, and Jane Austen Novels.

Boys Minute
Boys Minute features friends of Amy's such as Aziz Ansari, Chris Pratt, and Jason Bateman. It sums itself up.
The other shows that make Smart Girls as unique as its message are: Experimenting With Megan Amram, Girls of the World, Google+ Hangout, Meow Meow Music, Operation Nice, Smart Girls at the Party, and The Other Side.    At the moment, Smart Girls has nearly 158k followers on Twitter and 190k followers on Instagram and continues to inspire girls around the world to be true to themselves despite what others say. Like Leslie Knope says, "Winning is every girls dream" and Amy Poehler, Meredith Walker, and Amy Miles are making an effort, through Smart Girls, to give every girl a chance to make their dreams reality.    
Today in 2004, Tina Fey and Amy Poehler made history as the first all-female "Weekend Update" anchor team pic.twitter.com/AlQRnWnusn

— BuzzFeed Style (@BuzzFeedFashion) October 3, 2015