Class of 2020: Freshman Perspectives
The arrival of a new school year can mean new faces, teachers, classes, and routines to Academy girls, especially to Academy's newest and littlest sisters, the Class of 2020. On Friday, August 8, 125 nervous Freshmen (the largest freshmen class in AHN history) entered the Brady Center to embark on their first taste of Academy tradition, the iconic freshman orientation.
When asked about the class of 2020's orientation, Junior student council member Alex Smith claims, "The majority of them were very quiet and nervous to meet other people, and only a small amount of girls seemed enthusiastic. Hopefully as they become acclaimed to Academy life and get to know each other, they will develop a bond like classes before them."
However, after a few hours of ice breakers, singing, and teacher introductions, the class began to warm up to their soon-to-be sisters. Prior to getting the chance to explore campus and their classroom locations, the class took the iconic Freshmen Orientation photo like many classes before them.
welcome to the Academy family class of 2020! #JagSwag ?? pic.twitter.com/EMZJjvBnpe

— Jag Nation (@jagnation_1881) August 8, 2016
As almost every upperclassman can recall, the freshman transition phase can be just as difficult for girls known as Academy "lifers" who have been at AHN since Pre-K as it is for any freshman entering from outside schools.
When comparing her middle school experience to her few days of high school, ten-year Academy student Ava Accardi states, "High school is much different than middle school in many different ways. I feel like I have much more freedom and I enjoy not having boys anymore. The work load has been a lot more and harder than middle school for sure, but I really like high school so far and am excited for four more years at Academy."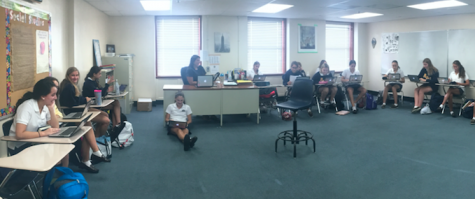 Not only has the class of 2020 seemed to embrace the all-girls environment, but also the new learning techniques and styles exposed to them during their first few weeks of high school.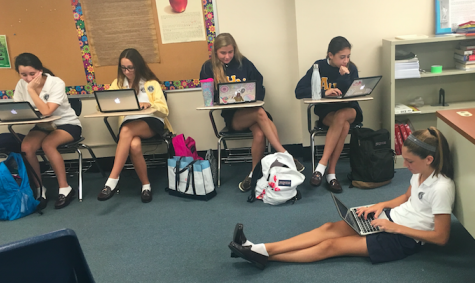 "What I have enjoyed most about this year learning-wise is the getting the chance to have class in the iLab. My favorite part is getting to write out problems almost anywhere I want, and being able to work out harder math problems in the group environment," according to freshmen Olivia Perez.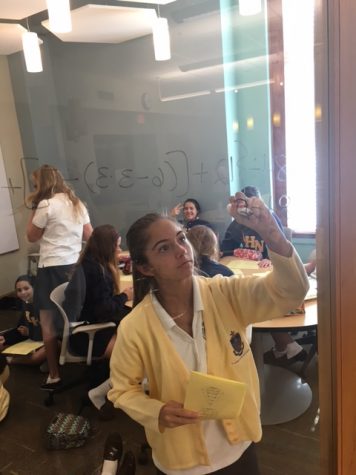 All in all, the class of 2020 seems to be a hard-working class full of loving friends and determined students while adjusting to Academy life. 
Amelia Traviesa adds, "Compared to middle school, going to an all girls school is the absolute best. I think it's relieving to wake up and not have to put in any effort in the way I look, and to just go to school naturally and carefree. No need to straighten my hair or put on makeup!"