Prom post: Online sites help girls avoid duplicate disasters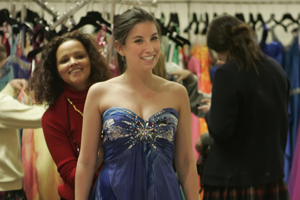 PHILADELPHIA — Colby Berman nearly swooned when she saw herself in the frothy pink chiffon gown with gold beaded trim at the Bala Girls store in Bala Cynwyd, Pa.
"It's exactly what I wanted," the 15-year-old Lower Merion High School sophomore gushed as her entourage — and there's always an entourage when it comes to the increasingly complex task of picking out a prom gown — oohed and aahed on cue.
To make sure the $400 dress was exactly what no one else wanted or, more precisely, dared to wear to the May 15 dance to which Berman had been invited by her senior boyfriend, she planned to upload a photo to Lower Merion's "Please Don't Buy My Prom Dress" Facebook group as soon as she got home.
"I think it's a good idea," said Berman's aunt, Barbara Sylk, who accompanied Berman and her twin sister to the store. "Even if it's the same dress but a different color, they get upset."
Perhaps the best thing to happen to prom since spray-on tans, social-media sites have sprung up at high schools to ensure that revelers avoid the social trauma of a "who wore it best" moment at the big event.
Go ahead and laugh, but as proms have taken on the glitz, not to mention the expense, of a night at the Oscars, the only thing worse than not getting invited is getting there and seeing some other girl in your dream dress.
Online sites allow teens to post photos of their frocks, invite critiques, comment on other selections, and scope out what their friends are going to wear — all before lining up a date.
"Everyone wants to feel special for prom," said Nicki Sadeghipour, 18, a senior at Germantown Academy, who was looking at a royal-blue bead-crusted number at Bala Girls.
Wearing a clone of someone else's dress "would be horrible," she said.
At Lower Merion, every girl was invited to join the Facebook group. So far almost 200 have uploaded pictures.
"It's required," said Berman's twin sister, Logan, who is also going to Lower Merion's senior prom. And if they didn't join in? "It would be really awkward," she said.
Prom lore is filled with stories of girls wearing the same gown and of the ensuing heartbreak. Debbi Weidman of Lafayette Hill, Pa., still remembers "the trauma" of seeing another girl in her dress at Cheltenham's prom … in 1977.
"I wore pink, and her dress was in green. It was awful. We looked like mismatched bookends," said Weidman, whose daughter, Katie, bought a white beaded gown for Plymouth Whitemarsh High School's June 3 prom and will put it online.
When Weidman went to school, buying a prom dress was no big deal: You went shopping, and your friends saw your dress when you showed up at the dance with your date. Now the only difference between a prom and a Hollywood premiere are the red carpet and paparazzi.
"We all watch the awards shows and Fashion Police and get inspiration for prom," Katie Weidman said.
As an added precaution, Bala Girls owner Lynne Raymond tracks purchases in a book so there's no question of who got it first. She said promgoers wouldn't even look at a dress if a Facebook friend was thinking of buying it.
Still, double trouble seems unavoidable.
Last year, two girls wore the same dress to the Shipley School's junior-senior prom even though each posted it online. Neither backed down, each saying she had already gotten it altered and couldn't return it.
"It was big drama," recalled Silvi Specter, 17, a junior at the Bryn Mawr school.
When showdowns occur, underclassmen are expected to back off.
Not Michelle Geosits, 18, who posted the dress she planned to wear to Germantown Academy's junior-senior prom last year only to get a message from a senior saying she had the same dress and suggesting Geosits return hers.
"I told her I had it pinned for alterations, and she asked if they had actually started cutting it," Geosits said, adding that she had said yes even though the dress hadn't been touched. When they got to prom, Geosits told the other girl she looked great. The senior said nothing.
The downside of the pre-prom dress dickering is that there are no surprises when the big night finally arrives. Which is why Laura Kelly, 18, a senior at Merion Mercy Academy, is not going to post her gown.
"I personally don't care if someone has the same dress as me," she said.
Then there are those at Merion Mercy who say they don't want to post their dresses, Kelly said, "but they go online and say if you have it I'll let you know, and you can return it."
———
(c) 2011, The Philadelphia Inquirer.
Visit Philadelphia Online, the Inquirer's World Wide Web site, at http://www.philly.com/.
Distributed by McClatchy-Tribune Information Services.