Academy recognizes achievements of Class of 2012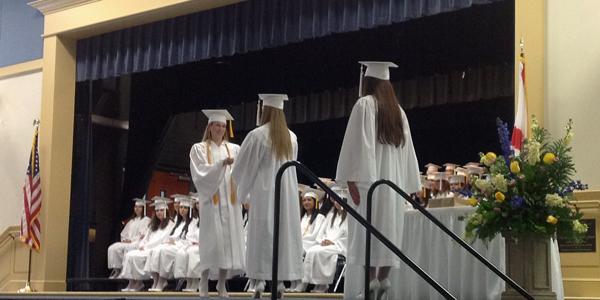 The sun shone brightly on Academy as the Class of 2012 convened in the Brady Center for the Senior Honors Convocation on Friday afternoon, May18. In attendance were parents, administrators, teachers and students in grades 9-11.
Class President Reena Martinez, who was selected by her classmates as Outstanding Senior, set the tone for the convocation in her opening address, in which she reminded seniors, "As we move to the next phase of our lives, let us keep in mind these simple, yet profound words about character: ―We must adjust to an ever-changing road…while holding onto our unchanging principles."
The final awards, presented in the second half of the two-hour program, all keyed into the same principles mentioned by Martinez. Mary Green received the American Legion Award for outstanding character, scholarship, leadership, and service. The winner of the Mother Marie-Rose Durocher Alumnae Award, presented by Alumni Director Mrs. Patty Bohannon, was Cavesha Anderson, who possessed the qualities fostered by Mother Marie-Rose, including character, service to others, and dedication to the AHN community.
Sarah Davis received the Dads Club Achievement Award from Club President Mr. Peter Hobson for her excellence in three sports: basketball, track and cross country. Mrs. Gina Jung, President of the Mothers Association, presented the Mothers Association Award to Tori Foody.
Mr. Art Raimo, AHN President, presented awards for the highest academic averages over four years: Anne-Marie Trang (French), Jennifer Compton (Science), Marigloria Maldonado-Puebla (Spanish), Josie Little (English and Salutatorian), and Mary Green (Valedictorian, Mathematics, Social Studies, and Latin).
Sarah Davis, attending Fordham University, and Mary Green, attending Notre Dame, received recognition as National Merit Scholars who have received scholarship funds from their designated universities. Other National Merit awards included Gabriella Bou as National Hispanic Scholar, Jose Little as National Achievement Scholar,  and Jen Compton as Commended Scholars.
Victoria Sierra received recognition as AHN Good Citizens nominee for the DeSoto Chapter of the National Society -Daughters of the American Revolution, while Allison Babin received a scholarship award from the Mizzou Alumni Association of Tampa Bay.
One of the special father-daughter moments was the presentation of the Type 7 Air Force ROTC Scholarship by Lt. Col. Shannon Meade to his daughter Darby Meade.
Attendance awards included students in attendance since Pre-K (Gabriela Bou, Allison Babin, Anna Castellano). The following seniors were recognized for having attended AHN continuously since Kindergarten: Amanda McWilliams, Victoria Sierra, Kathryn Elliott, and Mary Green, with Katherine Szikszay attending AHN since first grade.
The ceremony commenced with the naming of subject-specific academic honors and the distinction of club officers. Seniors who had gone on or above 300 hours for community service, demonstrating a basic principle of Blessed Mother Marie Rose in service to others were Katelyn Smith (658 hours),  Rachel Eilers (539 hours), Sophia Baldor (537 hours), Olivia Jones (513 hours), Krissia Marquez (503 hours),  and Nicole Bramwell (474 hours).  Other students who served more than 300 hours were Katherine Ann Sanche, Noelle Keith, Sumble Sadiq, Katie McCormick, Ciara Alvarez, Charmaine Bondoc and Kerrie Spiller.
Next Martinez returned to the lectern once more to present the check for Senior Endowment. On behalf of the Class of 2012, she proudly handed Mrs. Patti Bohannon a check for $67,295,which represented the entire effort of the seniors through hosting school events throughout the year.
Mrs. Darcy Dwyer announced the college choice of each student, who stood to be recognized by the entire audience. Once again the economy and Bright Scholars kept many girls in Florida, Many girls decided to stay close to home, with forty-three of the seventy-six members attending schools in Florida, while some chose to pursue educational opportunities across the nation as far away as New York and California.
For more information about college choices of this year's seniors, check out the answers to Achona's Mascot Madness quiz.