Five AHN Seniors Sign to Continue Their Athletic Careers at the Collegiate Level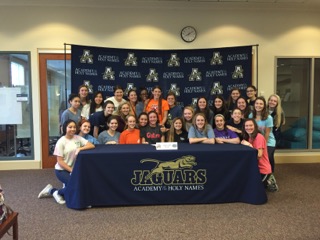 On Wednesday, February 3, five Academy athletes signed their National Letter of Intent to continue their career at the collegiate level. The five student-athletes who signed are: Mimi Kamm, Julia Lester, Avery Stanechewski, Jessica Villa, and Anya Muyres.
Mimi Kamm will join the rowing team at Marist College.
Kamm reveals, "I am excited to challenge myself. I think it will be fun to start a new adventure with a new team, although I will miss the great team I have now. It will be a different experience but I am excited to see how much I can improve and excel at a college level."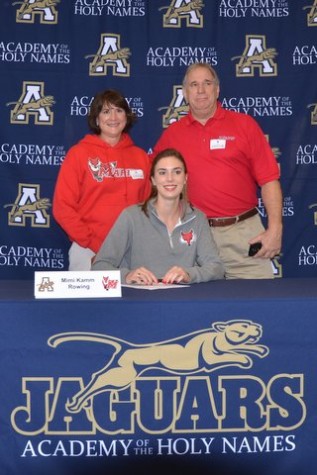 Julia Lester will continue her soccer career at the University of Florida.
Lester comments, "I am excited to grow not only as a player, but also as a person. I cannot wait to learn more about the game and meet new people. "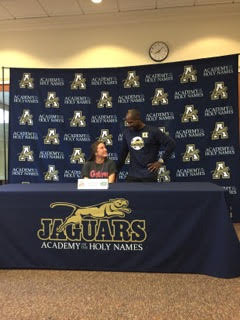 Avery Stanechewski signed her commitment letter to play volleyball at Caldwell College. Stanechewski was a three year varsity member of Academy's volleyball team. She will continue to play the positions of middle blocker and opposite hitter as she continues her career.
"My college coach was really concerned with making sure me and the other freshman joining my team at Caldwell next year were having fun and that we were excited with our commitments. It is nice to know he really cares about us feeling welcome and excited about signing to the team next year," comments Stanechewski.
Jessica Villa will attend the University of South Florida where she will play soccer. She is very excited to be able to play with people who are just as passionate about soccer as she is.
Villa says she was "incredibly happy and surprised to see so many of her friends, and even quite a few teachers, show up to the signing ceremony."
Anya Muyres signed to play softball at Missouri Valley College. In addition to playing for the Jaguars, Muyres is also a member of the Swedish Olympic Team.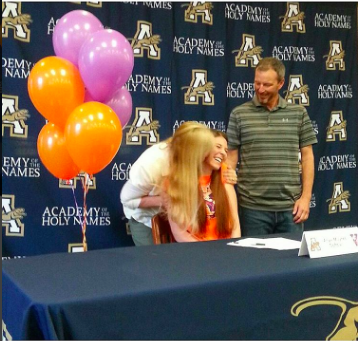 "I am very excited to experience the extensive training at the Division One level. I feel as if this experience will better me both as a person and a player," discloses Muyres.
congratulations on your commitments ladies! #JagsAtTheNextLevel #JagSwag ???? pic.twitter.com/yDD4xrvV6C

— Jag Nation (@jagnation_1881) February 3, 2016